Local Elections: SDP candidate promises LGBT-friendly capital
Social Democratic Party (SDP) convener and Taipei mayoral candidate Fan Yun (范雲) yesterday pledged to implement policies to make Taipei more LGBT-friendly.
Although the Council of Grand Justices last year ruled that same-sex marriage should be legalized within two years, Taipei has since carried out few policies to promote gender equality, Fan told a news conference.
As the nation's capital, and having the most resources at its disposal, Taipei should be a leader in promoting gender diversity, but although as many as 60 percent of Taipei residents support same-sex marriage, none of the other Taipei mayoral candidates have proposed any plans to promote LGBT rights, she said.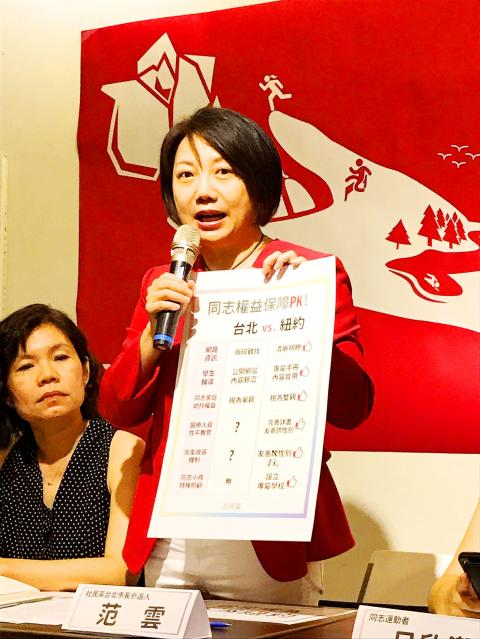 Social Democratic Party convener and Taipei mayoral candidate Fan Yun, speaking at a news conference in Taipei yesterday, holds a chart comparing provisions for LGBT people in Taipei and New York.
Photo: Su Fang-ho, Taipei Times
Chinese Nationalist Party (KMT) Taipei mayoral candidate Ting Shou-chung (丁守中) has opposed a bill to legalize same-sex marriage and Taipei Mayor Ko Wen-je (柯文哲) has repeatedly made discriminatory comments about women, Fan said.
Although Democratic Progressive Party (DPP) Legislator and Taipei mayoral candidate Pasuya Yao (姚文智) has not made any anti-LGBT comments, the DPP has been hesitant to pass legislation on same-sex marriage, she said.
Fan promised to implement a series of policies to ensure that LGBT people enjoy the same rights as heterosexual people if she is elected, and urged other candidates to do the same.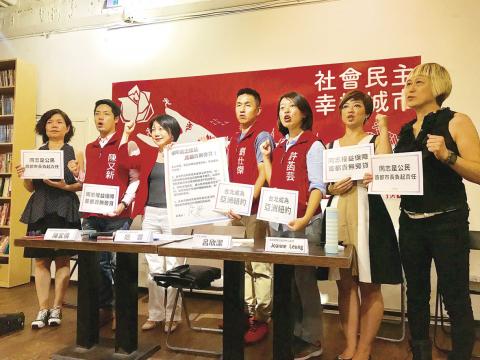 Social Democratic Party Taipei mayoral candidate Fan Yun, third left, other SDP politicians and guest speakers hold a news conference in support of LGBT rights yesterday in Taipei.
Photo: Su Fang-ho, Taipei Times
"Taipei should have more LGBT-friendly public spaces and infrastructure. In particular, people need to feel comfortable in places where they have to expose their bodies, such as hospitals or bathrooms. We should promote gender-friendly education at hospitals and clinics, and build more gender-neutral bathrooms," she said.
If one of the same-sex partners has a child, their legal partner should be recognized as their parent and allowed to take parental leave, she said.
"Currently, if the biological parent passes away, their partner is not given custody over the child and must apply to adopt them," Fan added.
Same-sex couples with children should also be eligible to apply for childcare subsidies, she said.
"We hope Taipei can become the New York in Asia," she said, adding that the US city has LGBT-friendly homeless shelters, schools designed for children of same-sex parents and many other infrastructure and policies to promote gender equality.
Comments will be moderated. Keep comments relevant to the article. Remarks containing abusive and obscene language, personal attacks of any kind or promotion will be removed and the user banned. Final decision will be at the discretion of the Taipei Times.