Divers find reefs near power plant site
A group of Keelung-based divers on July 7 discovered coral reefs "the size of about 10 basketball courts" near the Elephant Trunk Rock (象鼻岩) in New Taipei City's Rueifang District (瑞芳), close to the planned site for Taiwan Power Company's (Taipower) Shenao Power Plant (深澳電廠).
Diving instructor Wang Ming-hsiang (王銘祥) and Offshore Life Studio cofounders Ray Wang and Gina Chien were investigating the marine ecosystem near Shenao Fishing Port (深澳漁港) when they made the discovery.
Wang Ming-hsiang shared the find on Facebook, and many people responded saying they fear that once Taipower builds the plant, the reefs will disappear.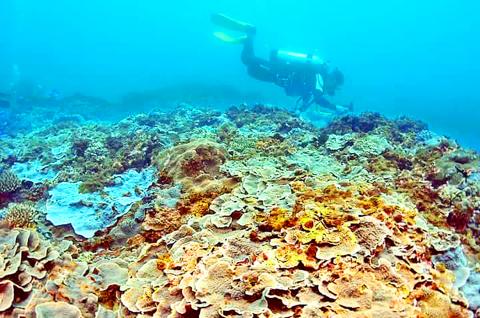 Diving instructor Wang Ming-hsiang swims over a coral reef in an undated picture.
Photo provided by Wang Ming-hsiang
Taipower claims that there are no marine resources near the planned site for the plant and coal unloading dock, Wang Ming-hsiang said.
Thus, the three teamed up with other experts to uncover the truth, he said, adding that they have taken underwater photographs and videos as evidence.
During their dive, they discovered several genera of coral in good condition, Ray Wang said.
The coral reefs in the area are the densest he has seen in northern Taiwan in his more than 10 years of diving, Wang Ming-hsiang said.
The coral can be seen by diving just 5m to 10m down, he said, adding that it would probably take a few hundred years for coral reefs to grow to this size.
In order to build a coal unloading dock, Taipower would need to do deep-sea dredging, which would involve covering — and killing — the coral with sediment, he said.
The Environmental Protection Administration in March approved an environmental impact assessment for the Shenao Power Plant, which is planned to be operational by 2025.
Comments will be moderated. Keep comments relevant to the article. Remarks containing abusive and obscene language, personal attacks of any kind or promotion will be removed and the user banned. Final decision will be at the discretion of the Taipei Times.