Experts call for global collaboration
Minister of Science and Technology Chen Liang-gee (陳良基) yesterday inaugurated the Asian Innovation Forum in Taipei, at which experts called for more international collaboration in formulating science and technology policies.
The forum took place at the Grand Hotel and was attended by more than 30 think tank executives and researchers from several Asian nations.
Taiwan is a small nation with limited resources, Chen said, adding that its technological development should be guided by smart strategies to find more international partners and set common targets for members of a team.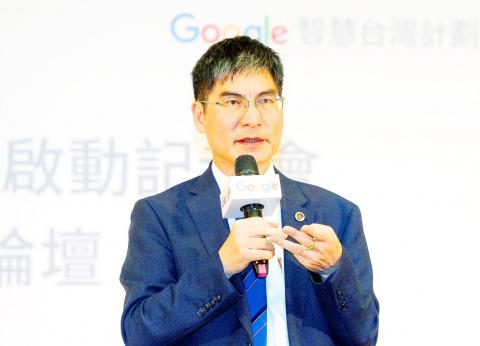 Minister of Science and Technology Chen Liang-gee speaks at an event on Wednesday last week.
Photo: CNA
The Ministry of Science and Technology is to reform its review process for technological projects and hopes to develop a "science of science policy," a decisionmaking paradigm based on empirical evaluations, he said.
Describing the world as entering an era of turbulence, uncertainty, novelty and ambiguity, Tokyo University of Technology professor Naohiro Shichijo said nations need new methods to shape their science policies.
Instead of merely forecasting imminent changes, nations should develop "foresight" to anticipate future technologies, he said.
With an increasing number of social issues emerging in a global context, more international collaboration, open publication and joint funding are needed, he added.
All nations need to catch up with the "tempo" of global development, particularly Taiwan, which is highly dependent on foreign trade, said Albert Li (李正通), an associate researcher at the National Applied Research Laboratories' Science and Technology Policy Research and Information Center.
The nation requires new technological solutions to pressing problems such as an aging population, a low fertility rate, an unequal distribution of healthcare resources, questionable food safety, threatened information security and unequal access to digital resources, he said.
Cyberattacks and data thefts in particular would remain the nation's top technological risks this year, he added.
Other critical issues for Taiwan include the effects of climate change; reduced food self-sufficiency and water availability; rising demand for electricity; and air and water pollution, Li said.
While technology would not solve all problems, people's freedom of choice would be restricted without the assistance of new technologies, he said in response to a question from the audience.
Following the forum, the International Conference on Science, Technology and Innovation Policy Evaluation, entitled "Navigating Innovations Through Evaluation," is to be held at the hotel today featuring speakers from Taiwan, the UK, the US, Japan, Russia and South Korea.
Comments will be moderated. Keep comments relevant to the article. Remarks containing abusive and obscene language, personal attacks of any kind or promotion will be removed and the user banned. Final decision will be at the discretion of the Taipei Times.