Cabinet urged to scrap plans for Shenao plant
Opponents of a plan to build a coal-fired plant on the site of the old Shenao Power Plant (深澳電廠) yesterday filed an administrative appeal with the Executive Yuan, urging it to scrap the project for its potential to "cause air pollution and kill marine life."
State-run Taiwan Power Co (Taipower), which plans to construct the plant in New Taipei City's Rueifang District (瑞芳), received approval from the Environmental Protection Administration (EPA) in 2006.
However, the utility in May last year proposed a modified plan, which would replace two supercritical generators with ultra-supercritical generators and reduce capacity from 800 to 600 megawatts each, and said it would build a coal delivery harbor and breakwaters off the district's Shenao Bay (深澳灣).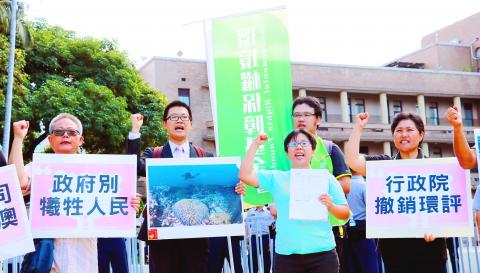 Environmental groups yesterday demonstrate in front of the Executive Yuan in Taipei, urging the Cabinet to revoke the Environmental Protection Administration's approval for a plan to build a coal-fired plant on the site of the old Shenao Power Plant.
Photo: CNA
Saying that the utility had changed the scope of the project, the EPA conducted four environmental impact assessment (EIA) reviews before giving the utility its final approval in May, which sparked overwhelming criticism.
Environmental groups and Rueifang locals yesterday gathered in front of the Executive Yuan in Taipei, urging the Cabinet to revoke the EPA's approval and scrap the project.
In granting its approval, the EPA only recommended that the utility provide a supplement to its ecological survey, Environmental Rights Foundation lawyer Kuo Hung-yi (郭鴻儀) said, adding that this was a flaw in the EIA procedure.
As the plant's planned location overlaps with a conservation area off the bay for aquatic animals and plants, the utility should be required to obtain the city government's approval before constructing a facility in the area, and the city government is opposed to the project, Kuo said.
The city government could refuse to issue coal-burning permits to Taipower, even if the plant's construction is complete, he added.
Instead of answering questions from the public about the plant's potential effect on air quality and human health, Premier William Lai (賴清德) chose to tell people that the plant would use "clean coal," Anti-Shenao Plant Self-Help Group director Chen Chih-chiang (陳志強) said.
"This is a government that can do nothing but push people to file administrative appeals," Chen said, adding that he wants to know what President Tsai Ing-wen (蔡英文) meant when she asked government officials to be more "humble."
In touting development plans that could have a negative impact, the government often uses "feedback money" to sway local residents, but history has shown that no benefits guaranteed by government officials promote sustainable development, Chen said.
An online petition against the project has garnered more than 90,000 signatures in four months, Greenpeace Taiwan campaigner Chang Kai-ting (張凱婷) said, calling on the government to show its resolve to promote energy transformation by canceling the project.
Comments will be moderated. Keep comments relevant to the article. Remarks containing abusive and obscene language, personal attacks of any kind or promotion will be removed and the user banned. Final decision will be at the discretion of the Taipei Times.