Program helps players chase dream
Amid global excitement for this year's World Cup, a group of young Taiwanese soccer players are pursuing their dreams of playing overseas by improving their English-language skills.
Hsieh Ming-jen (謝銘仁), a member of the soccer team at Mei Lun Junior High School in Hualien, said his dream is to be signed by an international team, but added that not speaking English would be a barrier.
However, after participating in the "Reviving Low Achievers' Learning by PASSION-FB" project led by National Taiwan Normal University, Hsieh said he feels more confident about his English ability.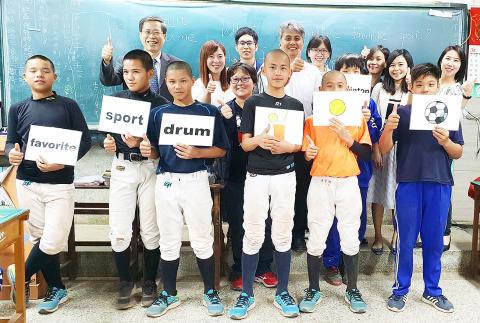 Students at Hualien County's San Min Junior High School pose in a classroom on Thursday along with teachers and National Taiwan Normal University vice president Sung Yao-ting, back row left.
Photo: CNA
The program was one of 68 projects selected last year for the US Department of State's Alumni Engagement Innovation Fund, and the only one from Taiwan.
The project, aimed at addressing the urban-rural English achievement gap in Taiwan, selected 21 middle-school students who scored "level zero" on the Diagnosis and Certification of English Competence diagnostic tool, said university vice president Sung Yao-ting (宋曜廷), who led the project.
Three public middle schools in rural areas of Hualien County joined the program: San Min Junior High School, Yu Dong Junior High School and Mei Lun Junior High School.
From October last year to early last month, special 90-minute classes were held every week to teach the students English, starting from basic pronunciation and simple sentences, and advancing to short story writing and presenting, Sung said.
The course included physical activities to stimulate learning efficiency, such as tossing a ball to select vocabulary, Sung said, adding that they helped the students regain a passion for learning.
The students' test results after the classes showed that their vocabulary, listening and grammar scores improved by 72 percent, 65 percent and 53 percent respectively.
Education helps expand young people's horizons, Fulbright Taiwan executive director William Vocke said, adding that language education is important for younger students.
Next semester, 112 US college students are to come to Taiwan to teach English at middle and elementary schools, Vocke said, adding that nine of them are to teach in Hualien County, prioritizing rural areas.
"We hope to continue to expand the Fulbright project and allow up to 200, or even 300, students to come teach in Taiwan," Vocke said.
Comments will be moderated. Keep comments relevant to the article. Remarks containing abusive and obscene language, personal attacks of any kind or promotion will be removed and the user banned. Final decision will be at the discretion of the Taipei Times.