Dorm decision needs clarification: Hou You-yi
Chinese Nationalist Party (KMT) New Taipei City mayoral candidate Hou You-yi (侯友宜) yesterday called on the Taipei Department of Urban Development to deliver a more satisfactory explanation than "it committed an administrative oversight," after it on Tuesday said that Chinese Culture University had breached the city's zoning regulations by renting out rooms in a student dormitory through a firm controlled by Hou's family.
"I think even Mayor Ko Wen-je (柯文哲) is not aware of the exact legal intricacies," Hou said.
The Da Chiun Building (大群樓), which is being used as a dormitory for the university, has contravened the Taipei City Self-Government Ordinance for Land Use Zoning Control (台北市土地使用分區自治條例), the department said on Tuesday.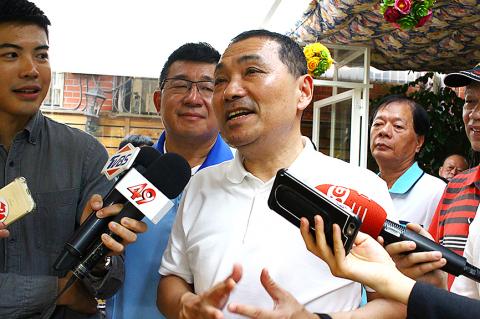 Chinese Nationalist Party (KMT) New Taipei City mayoral candidate Hou You-yi speaks to reporters yesterday.
Photo: Chiu Shu-yu, Taipei Times
The building is categorized as a Type 2 residential property and is not allowed for use as a boarding house or rental, according to the ordinance.
The university and the company have two months to comply with the act, the department said.
Lawyers representing Youyu Co, the intermediary overseeing the renting of the building for the university, began talks with the university on Tuesday, Hou said.
The university has, so far, allocated 200 students to the dormitory by drawing lots, and the company would seek to work out a deal that would protect the students' interests and accommodation rights, Hou said.
Hou said he was unsure why it had been legal for Youyu to rent the rooms to students directly, and yet it was illegal for the university to do the same.
He stands by his previous comment that should the city government deem the use of the building inappropriate, he would terminate the contract, Hou said, adding: "I have never committed actions that would break the law."
Hou's comments about abiding by city regulations have left student rights hanging in the wind, the university's Student Dormitory Autonomy Committee said in a statement.
The university should ascertain whether students already allocated to Da Chiun Building would be allowed to stay there next semester, should the contract be terminated, the committee said.
Arrangements for housing the 200 students that are staying in Da Chiun would be made if necessary, it said.
The termination of the contract would mean that fewer beds would be available for new students every year, forcing them to find more expensive lodgings off-campus, which constitutes a severe infringement on students' rights, the committee said.
"We only want a quiet place to live and study; we do not want to be embroiled in politics," the committee said.
Comments will be moderated. Keep comments relevant to the article. Remarks containing abusive and obscene language, personal attacks of any kind or promotion will be removed and the user banned. Final decision will be at the discretion of the Taipei Times.