Academia Sinica opens Convocation of Academicians
The 33rd Convocation of Academicians yesterday started at Academia Sinica in Taipei, with the absence of a minister of education becoming the focus of attention.
The convocation, which ends on Thursday, is held every two years and focuses on electing new academicians (research fellows), and the opening was attended by more than 200 bearers of the title.
President Tsai Ing-wen (蔡英文) in her opening speech said that Taiwan is going through critical transformations in its economy, industry and demographics, as well as its energy sector.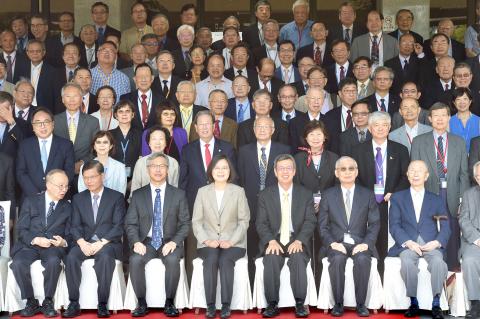 President Tsai Ing-wen, front row center, Vice President Chen Chien-jen, front row fourth right, and Academia Sinica President James Liao, front row third left, pose for a commemorative photograph yesterday at the 33rd Academia Sinica Convocation of Academicians in Taipei.
Photo: Huang Yao-cheng, Taipei Times
The role of academicians has therefore become more significant, as they are expected to integrate research across disciplines, seek groundbreaking solutions to key problems and offer instrumental advice on national development, she said.
On the sidelines of the ceremony, reporters asked academician and former minister of education Wu Maw-kuen (吳茂昆) about his role in the Ministry of Education's decision to postpone the confirmation of Kuan Chung-ming (管中閔) as president of National Taiwan University (NTU).
Kuan was not present at the ceremony, but might attend a meeting today to discuss problems with the institution's organizational reform.
Elected NTU president on Jan. 5, Kuan was supposed to take office on Feb. 1, but the ministry postponed his appointment amid allegations of plagiarism, a conflict of interest and a flawed selection process.
The controversy led to the resignation of then-minister of education Pan Wen-chung (潘文忠).
After Wu was appointed minister of education, the ministry on April 27 decided not to approve Kuan's election and asked NTU to hold a new election.
Facing criticism from multiple fronts, Wu also resigned on May 29, after serving for only 41 days.
Local media yesterday reported that academician and China Medical University president Lee Wen-hwa (李文華) has been approached about the post, but Lee denied the reports.
Some academicians have said that Academia Sinica's president should be directly elected by academicians rather than appointed by the president from a list of suggested candidates.
The institution has no position on such reforms and welcomes different views from its members, Academia Sinica President James Liao (廖俊智) said when asked for comment.
With a history of 90 years, Academia Sinica should proceed with firm steps and achieve sustainable development, Liao said.
Among its international cooperations, the institution next year is to work with the US National Academy of Medicine in a project called Healthy Longevity Grand Challenge, Liao said, adding that details are still being discussed.
Comments will be moderated. Keep comments relevant to the article. Remarks containing abusive and obscene language, personal attacks of any kind or promotion will be removed and the user banned. Final decision will be at the discretion of the Taipei Times.