Tsai urges unity to defend democracy
'SHARP POWER': Warning that democracy is in retreat in the 21st century, the president called for like-minded nations to fight anti-democratic forces like China
President Tsai Ing-wen (蔡英文) yesterday called on like-minded nations to stand together and take action against anti-democratic forces that have put democracy at the risk of regression, while vowing that Taiwan would never move backward.
"Historical trends do not always favor the forward march of democracy, but in Taiwan, moving backward is not an option," Tsai said at a Taipei forum titled "Global Solidarity of Democracy in Taiwan" hosted by the Taiwan Foundation for Democracy.
The forum, attended by guests from pro-democracy organizations in countries including Tunisia, India, Japan, South Korea and the US, was held to mark the 15th anniversary of the government-funded foundation.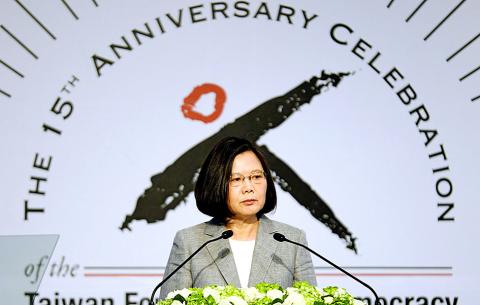 President Tsai Ing-wen delivers a speech at a conference to celebrate the 15th anniversary of the founding of the Taiwan Foundation for Democracy yesterday in Taipei.
Photo: Liao Chen-huei, Taipei Times
Tsai said the gathering of so many long-time democracy advocates is not just a celebration, but also a timely opportunity to reflect on the past, present and future of democracy.
"In the 21st century, democracy is in retreat," said Tsai, citing a report by Freedom that said this year marks the 12th consecutive year of decline in global freedom.
Tsai cited another report by the National Endowment for Democracy, funded largely by the US Congress, which examines how China and Russia use "sharp power" to project their influence.
The report says that "authoritarian regimes are exercising sharp power to take advantage of our free and open societies, promote alternative agendas, control and censor information, and undermine our democracies," Tsai said.
Taiwan is on the frontline of a battle that is taking place here, in Australia, the US, Europe and in like-minded countries all over the world, she said.
"Over the past two years, we have faced increasing pressure from China as they threaten our democratic way of life and limit our international space," she said.
These anti-democratic forces will proliferate if like-minded countries do not stand and act together, she said.
"It is only if like-minded countries work together — and stand together — that we can fight against unwanted economic, political or military coercion, and defend the values we hold dear," she added.
Tsai made similar remarks in an interview with Agence France-Presse yesterday.
In the interview, she called on the international community to "constrain" China by standing up for freedoms, and urged other nations to unite with Taiwan in defending against Beijing's expansionist aims and to protect shared liberal values.
"This is not just Taiwan's challenge, it is a challenge for the region and the world as a whole, because today it's Taiwan, but tomorrow it may be any other country that will have to face the expansion of China's influence," Tsai said. "Their democracy, freedom and freedom to do business will one day be affected by China."
"We need to work together to reaffirm our values of democracy and freedom in order to constrain China and also minimize the expansion of their hegemonic influence," she added.
She added that Taiwan had seen growing support from the US.
The warming relationship comes as Taiwan tries to boost its homegrown defense force.
"In the face of China's threats we feel the need for us to improve self-defense capabilities," she said.
Comments will be moderated. Keep comments relevant to the article. Remarks containing abusive and obscene language, personal attacks of any kind or promotion will be removed and the user banned. Final decision will be at the discretion of the Taipei Times.