DPP brass come out in support of Yao mayoral bid
Democratic Progressive Party (DPP) Taipei mayoral candidate Pasuya Yao (姚文智) yesterday held his first large election event in the city.
The event started at 7pm in front of DPP headquarters on Beiping E Road, with many supporters wearing neon-green T-shirts that read "TAIWAN TAIPEI," and waving tiny yellow flags and green paper signs.
"In the 16 years that Taipei was governed by former mayors Ma Ying-jeou (馬英九) and Hau Lung-bin (郝龍斌) of the Chinese Nationalist Party (KMT), the city's competitiveness fell and it became a second-tier city in global rankings," said DPP Legislator Rosalia Wu (吳思瑤), who hosted the event.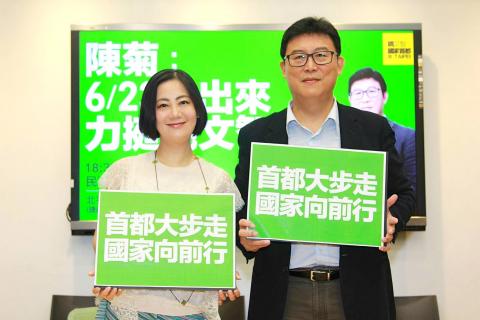 Democratic Progressive Party Taipei mayoral candidate Pasuya Yao, right, and DPP Legislator Rosalia Wu hold up signs reading "When the capital takes a big step, the nation moves forward" at a news conference in Taipei on Friday.
Photo courtesy of Pasuya Yao's office
The DPP and its supporters believed that Taipei Mayor Ko Wen-je (柯文哲), as an independent, would bring progress to the city, but they have been disappointed and the city's satisfaction rate has dropped in national surveys, she said, adding that she hoped Yao would win the Nov. 24 election.
Some supporters might be upset about the central government's progress on reforms, but the KMT opposes reforms and the results are unlikely to be noticeable after just two years, DPP Legislator Tuan Yi-kang (段宜康) said, adding that using votes to "punish" the DPP would only cause essential reforms to stall.
China was upset to see the DPP become the ruling party, but that is because the DPP protects Taiwan, and its sovereignty and dignity, Tuan said, adding that he hoped people would continue to support Yao and the party's reforms and promising steady improvement.
More than two dozen DPP legislators stood on stage in a show of support and all the party's Taipei city councilors and candidates attended the event.
The DPP has lost the Taipei mayoral election many times, but is confident of its governing ability and believes it will win, DPP Legislator Su Chih-feng (蘇治芬) said, adding that Yao was born and raised in Taipei, and is fully qualified to become its mayor.
The DPP takes responsibility for its decision and would not "play a fake game," only pretending to support its own candidate, like some KMT members have speculated, DPP Legislator and Central Executive Committee coconvener Chen Ming-wen (陳明文) said, adding that the party is confident in Yao's ability and would support him through the elction.
As of 8pm, the event's hosts claimed that more than 15,000 people were attending.
Comments will be moderated. Keep comments relevant to the article. Remarks containing abusive and obscene language, personal attacks of any kind or promotion will be removed and the user banned. Final decision will be at the discretion of the Taipei Times.