Maori New Year marked with week of celebrations
INDIGENOUS COOPERATION: The Council of Indigenous Peoples is cohosting the events, which it said underline cooperation with New Zealand, also on Aboriginal issues
The New Zealand Commerce and Industry Office yesterday opened a celebration of the Maori New Year in Taipei, with events planned throughout the nation from today.
Matariki is celebrated as the Pleiades star cluster rises in the middle of the New Zealand winter.
The celebrations are to continue through Friday next week and include film screenings in Taipei until tomorrow, a kapa haka performance in Taoyuan today and a concert headlined by New Zealand singer Aaradhna in Taitung on Friday.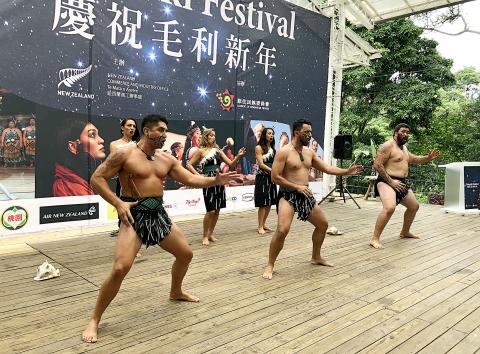 Maoris yesterday perform a kapa haka, part of the Maori's Matariki Festival, or New Year celebration, during a news conference in front of the New Zealand Commerce and Industry Office in Taipei.
Photo: CNA
The Council of Indigenous Peoples is cohosting the celebrations, which symbolize the stable and deepening partnership between Taiwan and New Zealand, council Minister Icyang Parod said.
This year marks the fifth anniversary of the signing of the Agreement between New Zealand and the Separate Customs Territory of Taiwan, Penghu, Kinmen, and Matsu on Economic Cooperation in 2013, he said, adding that New Zealand is an important partner.
One chapter of the agreement established cooperation on indigenous issues, Icyang said.
Aboriginal groups in Taiwan and New Zealand meet yearly to discuss plans for economic, cultural, tourism and educational cooperation, he said, adding that the meetings have yielded substantial results.
The connection between the Maori people and Taiwanese Aborigines is a unique aspect of the relationship between New Zealand and Taiwan, office Director Moira Turley said.
Over the past five years, trade between Taiwan and New Zealand has grown more than 20 percent, Turley added.
New Zealand hopes to establish deeper relations with Taiwan, to introduce Taiwanese to different parts of New Zealand and to elevate economic and cultural relations between the countries to new heights, she said.
Comments will be moderated. Keep comments relevant to the article. Remarks containing abusive and obscene language, personal attacks of any kind or promotion will be removed and the user banned. Final decision will be at the discretion of the Taipei Times.