Americans win Tang Prize for cancer research
Tony Hunter, Brian Druker and John Mendelsohn have won this year's Tang Prize in biopharmaceutical science for their breakthroughs in developing targeted cancer therapies, the Tang Prize Selection Committee announced yesterday.
Their research and findings of protein tyrosine phosphorylation and tyrosine kinases as oncogenes have led to successful targeted cancer therapies, the committee said.
The three winners, all Americans, have shown how basic science can lead to clinical applications that benefit humankind, said Chang Wen-chang (張文昌), a member of Academia Sinica and the convener of the selection committee.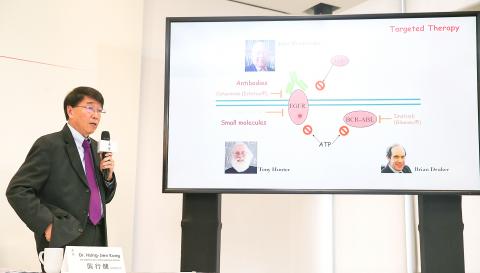 Speaking in Taipei yesterday, Academia Sinica academic Kung Hsing-jien explains the targeted cancer therapy research done by US scientists Tony Hunter, Brian Druker and John Mendelsohn, for which they have won this year's Tang Prize in biopharmaceutical science.
Photo: CNA
Hunter demonstrated that a mechanism called tyrosine phosphorylation acts as a master on/off switch for a number of key proteins that are critical for successful cancer therapies, the committee said.
Hunter, a professor of biology at the Salk Institute, gave birth to the field of targeted therapies after discovering in 1979 the mechanism of tyrosine phosphorylation and that the oncogene Src is a tyrosine kinase.
The historic discovery paved the way for active research in the following two decades on tyrosine kinase oncogenes, ultimately leading to the development of tyrosine kinase inhibitors (TKIs).
Based on Hunter's discovery, Druker, the director of Oregon Health & Science University's Knight Cancer Institute, led the successful clinical trial of a cancer-fighting drug called imatinib.
The drug turned chronic myelogenous leukemia, a cancer that once had a very low survival rate, into a manageable condition.
Gleevec, a brand of imatinib, shuts off oncogenic signals by inhibiting Abl-protein tyrosine kinases as predicted by Hunter's original research, the committee said.
Gleevec has also been successfully used in the treatment of acute lymphocytic leukemia and certain types of gastrointestinal stromal tumors by inhibiting other tyrosine kinase oncoproteins.
There are more than 26 TKIs that have been approved for clinical use. All of the discoveries have Druker's first successful trials to thank because they spurred this still burgeoning targeted therapy era, the committee said.
John Mendelsohn, president emeritus of MD Anderson Cancer Center, took another approach to combating cancer.
An alternative way of shutting off the activities of tyrosine kinases on the cell surface (receptor tyrosine kinase) is to develop antibodies against the extracellular domain of the receptor, the committee said.
In such a way, the natural ligand, or growth factor, can no longer bind and the receptor tyrosine kinase is no longer activated. Mendelsohn and his team came up with the idea that antibodies targeting the epidermal growth factor receptor (EGFR) may be an effective strategy for cancer treatment.
Mendelsohn led his team in conducting preclinical research and proceeded to develop the anti-EGFR antibody cetuximab, which eventually won the US Food and Drug Administration's approval for the treatment of colon cancer and head/neck cancer.
Comments will be moderated. Keep comments relevant to the article. Remarks containing abusive and obscene language, personal attacks of any kind or promotion will be removed and the user banned. Final decision will be at the discretion of the Taipei Times.