Prosecutors question TAPM head Wu amid scandals
The Taipei District Prosecutors' Office yesterday summoned Taipei Agricultural Products Marketing Co (TAPM) general manager Wu Yin-ning (吳音寧) for questioning over allegations that she used a stipend to buy high-end wine as gifts for the Democratic Progressive Party (DPP) and to acquire surplus produce to give to residents of her hometown.
Chinese Nationalist Party (KMT) Taipei city councilors last month raised questions about Wu using a "business promotion fund" in February to purchase 9.12 tonnes of unsold vegetables to donate to charitable groups that prepare meals for the underprivileged, of which 7 tonnes were sent to Changhua County's Sijhou Township (溪洲), where her cousin is mayor.
One KMT city councilor earlier this month claimed that Wu used the fund to purchase 60 bottles of wine as a gift to the DPP and to subsidize local government activities, which Wu and the DPP have denied.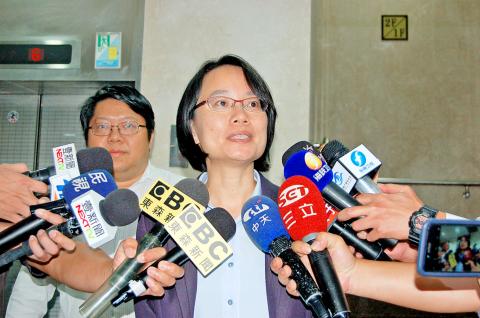 Taipei Agricultural Products Marketing Co general manager Wu Yin-ning talks to reporters after being questioned at the Taipei District Prosecutors' Office yesterday.
Photo: Yang Kuo-wen, Taipei Times
The Taipei Department of Government Ethics last week launched an investigation.
"I am the general manager hired by the board of directors. While I am in office, I do my job right every day," Wu said as she arrived for questioning. "All procedures followed company rules and involved no illegal conduct."
Following three hours of questioning, Wu said that she had clearly explained the situation and that she believed the truth would soon be known.
Han Kuo-yu (韓國瑜), a former general manager of the firm who is facing a lawsuit in another case related to the job, is to be summoned by prosecutors today as a witness in Wu's case to explain the company's procedures and legal usage of the fund.
KMT Taipei City Councilor William Hsu (徐弘庭) yesterday morning publicized a report by the ethics department that raised three points that he said might indicate Wu was not telling the truth.
Wu claimed to have asked the Taipei Market Administration Office and the Council of Agriculture to spread news about surplus vegetables, but the report showed that neither agency announced such news, he said, adding that it also found that Wu had not asked for a delivery receipt from a shipping company or the charities.
The report also found that Wu chose charities in Sijhou based on her personal experience and relationships, which was inappropriate, he added.
Asked about Wu being summoned and the department's report, Taipei Mayor Ko Wen-je (柯文哲) said that he has not read the report, because it is not in his purview, and that as the company is partly owned by the central government, it should be governed by its board of directors.
Asked about the points raised by Hsu, Ko said the investigation's results, and how they are published, should be explained at a company board meeting.
DPP Taipei mayoral candidate Pasuya Yao (姚文智) said that the scandals involving Wu have been used as tools for political gain, which should not be encouraged, adding that the public is more concerned about whether the company's general manager can properly do their job, as well as the needs of Taipei residents.
Comments will be moderated. Keep comments relevant to the article. Remarks containing abusive and obscene language, personal attacks of any kind or promotion will be removed and the user banned. Final decision will be at the discretion of the Taipei Times.