INTERVIEW: Academia Sinica president plans for low-carbon future
The concepts of carbon neutrality and a low-carbon society could help reduce air pollution and lower the nation's carbon footprint, which requires transitioning to cleaner sources of energy, Academia Sinica President James Liao said in an interview with 'Liberty Times' (sister newspaper of the 'Taipei Times') staff reporters Chien Hui-ju and Jennifer Huang
Liberty Times (LT): The nation cannot process its nuclear waste and is planning to shut down its nuclear power plants. Taiwan needs to change its sources of energy, but also wants to cut back air pollution and carbon emissions. You have suggested moving to a carbon neutral society. Could you elaborate?
James Liao (廖俊智): Achieving carbon neutrality in society is important, but it is difficult to accomplish quickly. The transition should take place in three stages.
First, it is most important to improve the nation's resource efficiency. That does not simply mean cutting back total energy consumption, but also creating renewable energy capacity and slowly replacing fossil fuels with renewable energy sources. Existent models and technology can be used to cut down carbon emissions and pollution.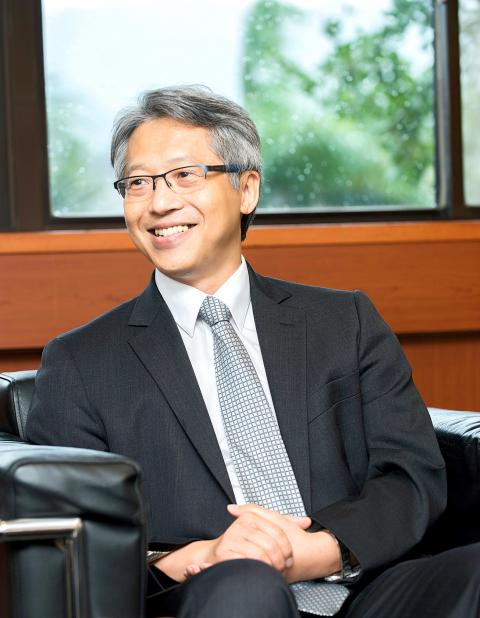 Academia Sinica President James Liao smiles in an undated photograph.
Photo courtesy of Academia Sinica
To achieve this, industries have to improve production processes, upgrade their equipment and avoid excessive energy use during peak hours — for example, by using intelligent regulation to rotate operations during off-peak hours between factories and reducing energy use during peak times.
Advanced technologies, such as artificial intelligence, smart electricity meters and smart power grids can help raise energy efficiency, but we should also pursue heat recycling.
An example of heat recycling is capturing and reusing waste heat generated by air conditioners or other machines and supplementing it with solar power to heat water more efficiently.
This kind of direct energy transfer also reduces energy losses when generating electricity from heat. The technology is not new; with some engineering it can be implemented directly.
In the short term, existing solutions can be used to achieve immediate effects. Meanwhile, the government can step up enforcement and execution of its policies.
It could enforce mandatory vehicle inspections; encourage the use of vehicles up to their mileage limit; promote public transportation usage, electric scooters and renewable energy for vehicles; and improve insulation of buildings.
Energy storage needs to be built to facilitate the large-scale construction of renewable energy plants in the middle stage. Energy storage technology is available, but large-scale and long-term storage that is also economically viable is still a great challenge.
The middle stage involves establishing a framework for a society that is highly energy efficient and has a low carbon footprint. Industries need to transform into businesses producing high-quality products that are not energy-intensive, but brain-intensive.
Manufacturers, for example, should streamline assembly lines and vary operating hours to maintain low-energy consumption while cutting down total carbon emissions.
Public transportation and private vehicles must be completely electrified and the government must step up circular use of resources, such as by recycling heat, and private and agricultural waste. This would help reduce urban air pollution while simultaneously increasing green energy use. Heat from kitchen compost and garbage can be used directly, for instance.
In the long term, developing methods to convert carbon dioxide into usable fuel would allow the reuse of carbon. Therefore, the development of carbon-conversion technology is important. Research on such methods is in the early stages, but will hopefully accelerate.
Just as you would not litter, unlicensed emission of carbon dioxide should be forbidden. Carbon emissions taxes are being considered worldwide and international corporate giants are already considering the possibility of carbon taxes when deciding about investments.
For example, Apple Inc has announced that its plants and offices worldwide are to be 100 percent powered by "clean energy," while Google has announced that the amount of renewable energy it is purchasing rivals the total energy consumption of the entire planet.
If companies start to demand green energy, but Taiwan is only starting to develop it, it will be too late.
The pressure on Taiwan might grow with time and it is entirely possible that other nations or international organizations could levy carbon taxes on countries that emit too much carbon.
Taiwan should begin setting up design-oriented industries targeting product and industrial process designs, among others, geared toward conservation of energy and carbon emissions.
Disregarding environmental concerns for economic gain will only come back to haunt us, so we should push our industries to transition to clean energy and reduce our dependence on industries that consume a lot of energy.
We should not dwell on the cost of carbon reduction and instead take a long-term view, taking into consideration other factors, such as social, health, and the environment.
LT: Which research institutions, besides Academia Sinica, could help with domestic studies on carbon capture and storage, carbon emissions reduction and energy efficiency?
Liao: First and foremost, Academia Sinica's mission lies in long-term basic research. Its main concern is the long-term development of scientific research and not immediate application.
Academia Sinica is conducting several studies on carbon conversion, including by turning inorganic compounds into photochemical and electrochemical catalysts, and using biochemistry to convert carbon dioxide. The institute hopes to make breakthroughs that will help the world rein in global carbon dioxide emissions.
I have personally studied how to use biochemical methods to strengthen photosynthetic pathways in nature and how to use new biochemical reaction pathways for carbon fixation.
For example, cyanobacteria can perform photosynthesis and grow faster than plants. They are also single-cell organisms, which makes them relatively easy to genetically modify. Cyanobacteria are very useful in the study of absorption and reuse of carbon dioxide.
We are designing new metabolic pathways and hope to find a more effective metabolic pathway for the conversion of carbon dioxide in cyanobacteria, which we then hope to apply to different bacteria and species. Right now, many chemicals can be converted successfully — for example, butanol, which is used as fuel.
Other countries are also predominantly using cyanobacteria to produce chemicals, but much still has to happen before the process can be commercialized on a larger scale and used to reduce energy consumption and carbon emissions. More research is needed.
We hope that the technology could also be applied to other organisms — such as plants — and yield effective methods for capturing carbon and converting it into new sources of energy.
Although Taiwan has already reached several accomplishments in energy efficiency research, the pace could be stepped up.
Academia Sinica is delighted to work on energy efficiency with research and development teams nationwide, as that is the most realistic way of addressing Taiwan's energy problems in the next three to five years and would also reduce air pollution.
LT: What other advice do you have on energy policy? How can stable electricity supply and emissions reduction be balanced? Are there international examples that we could learn from?
Liao: Electricity is relatively cheap in Taiwan, which has an influence on people's electricity use. The public is still generally indifferent about carbon emissions, so it is essential to increase the public's willingness to reduce carbon emissions as fast as we can.
Renewable energy should be made more fashionable, as, for instance, US electric vehicle manufacturer Tesla has done. Perhaps renewables would be more expensive in the beginning, but that would facilitate an effective push for green energy.
The public must also understand why it is necessary to reduce carbon emissions. Carbon dioxide is a greenhouse gas, but emissions from energy consumption are also directly related to air pollution. Reducing carbon emissions would simultaneously reduce air pollution and address global warming and climate change.
Take heat recovery for example. Other countries are already utilizing heat recovery to great extents. Not only is heat circulation and heat recovery technology common in factories, but there are also examples of entire communities using household waste to power community heating systems, especially in northern European countries.
Ministry of Economic Affairs data from 2016 show that 90 percent of Taiwan's energy is generated from oil, natural gas and coal.
The national energy mix will definitely change, but current policy guidelines would see fossil fuels making up 80 percent of total energy consumption in 2015, while renewable energy consumption will increase to 20 percent.
Electricity can be generated from sustainable sources to reduce consumption of fossil fuels, but there are also other forms of energy generation, such as thermal energy, that still require fossil fuels, so to really reduce carbon emissions, fossil fuel consumption for other purposes must also be reduced.
Corn is sometimes used to produce fuel, but this only speeds up the circulation of carbon dioxide. Thus, the most effective method would still be capturing carbon dioxide from the air to produce fuel.
That technology might still not be feasible, but it is something we can work on.
Translated by staff writers Jake Chung and Sherry Hsiao
Comments will be moderated. Keep comments relevant to the article. Remarks containing abusive and obscene language, personal attacks of any kind or promotion will be removed and the user banned. Final decision will be at the discretion of the Taipei Times.