Arsonist handed death sentence
INNOCENT LIVES: The New Taipei District Court said that Li Guohui 'had committed a severe crime that was a very heinous way of causing the death of nine people'
The New Taipei District Court yesterday handed the death sentence to an arsonist who was convicted of starting a deadly blaze at a residential building which killed nine people in New Taipei City in November last year.
The court convicted Li Guohui (李國輝), 50, on multiple counts of murder after an investigation found Li was a serial arsonist who has started fires to settle personal disputes several times.
As it was the first ruling, the case can be appealed.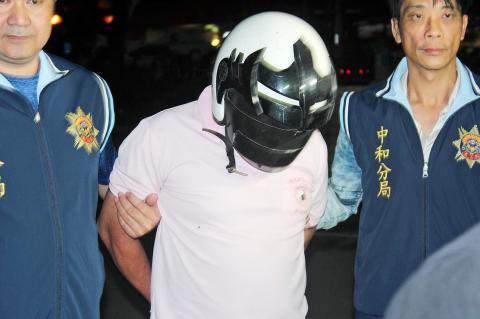 New Taipei City police officers escort arsonist Li Guohui, center, on Nov. 23 last year. Li was yesterday handed the death sentence at the New Taipei District Court for starting a deadly blaze that killed nine people in November last year.
Photo: Wang Ting-chuan, Taipei Times
Li, an ethnic Chinese from Myanmar, had an amphetamine habit and told people that he heard voices in his head, prosecutors said.
The defense argued that Li suffered from hallucinations and other psychological conditions.
The court ordered a psychiatric assessment, which cleared Li as fit to stand trial and found that Li had the coherence of mind to be aware of his actions before and after committing arson.
The investigation showed that Li had a violent temper and frequently got into squabbles, before taking revenge by committing arson four times within a six-month period last year, all near where he lived in New Taipei City's Jhonghe District (中和).
The court handed him the death sentence on the grounds that "Li had committed a severe crime that was a very heinous way of causing the death of nine people after he poured gasoline on a stairwell and ignited it" and that "he did not make any apology or offer any form of compensation to the families of the victims."
"From his past brushes with the law, Li knew arson was a criminal offense which endangers people's lives and property. After starting the fire, Li ran away to evade the police, changed his clothes and pretended not to know about the incident," a court statement said. "These actions showed that Li had planned the attack, and he had the understanding and awareness of an average person when committing arson."
The families of the victims told the court that Li should be sentenced to death because he had committed an atrocious crime amounting to the murder of nine innocent people.
"Even if the court gives Li three or four death sentences, it would still not be enough," one relative of the victims said.
Li told the court he regretted his actions and now knows that committing arson was wrong, and that he would accept whatever punishment was handed out.
With tears in his eyes, the younger brother of a victim surnamed Chang (張) said: "It was the right decision to give Li the death sentence."
"If you kill someone, then you have to pay with your life, and in this case nine innocent people were killed," he said. "We cannot accept criminals who argue that they have mental problems to defend themselves."
In the aftermath of the fire, Li at first denied that he had started the fire and only admitted his guilt after investigators presented evidence from surveillance cameras that showed him buying gasoline at a local gas station and pouring it on the third-floor stairwell of the apartment building.
Li admitted he had had disputes with a tenant in the building and that he got angry after hearing the tenant had made disparaging remarks about him.
Comments will be moderated. Keep comments relevant to the article. Remarks containing abusive and obscene language, personal attacks of any kind or promotion will be removed and the user banned. Final decision will be at the discretion of the Taipei Times.