Five incumbents lack majority support
FADING GREEN? The 'Global Views' survey found that DPP local government heads appear to have become less popular than their KMT and independent counterparts
Five of the 14 local government heads seeking re-election in November's nine-in-one elections do not have majority backing from their electorates, including independent Taipei Mayor Ko Wen-je (柯文哲) and Taichung Mayor Lin Chia-lung (林佳龍) of the Democratic Progressive Party (DPP), a survey released yesterday by the Chinese-language monthly Global Views showed.
The poll did not include Tainan, as it is governed by Acting Tainan Mayor Li Meng-yan (李孟諺) after former Tainan mayor William Lai (賴清德) became premier in September last year.
However, Presidential Office Secretary-General Chen Chu (陳菊) was included, as she did not leave her post as Kaohsiung mayor until after the poll was conducted from Feb. 23 to March 29.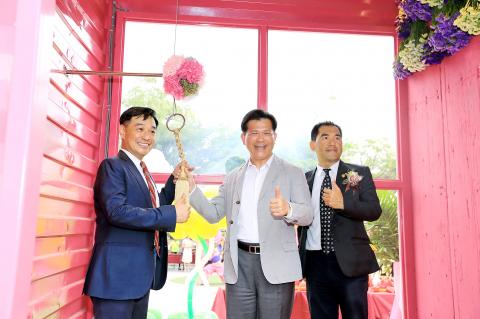 Taichung Mayor Lin Chia-lung, center, poses for photographers at an event in Taichung yesterday.
Photo: Chang Ching-ya, Taipei Times
Ko garnered a support rating of 48.9 percent, making him one of the five mayors and county commissioners whose re-election bids failed to receive majority support from their electorates, the survey found.
Ko was followed by Changhua County Commissioner Wei Ming-ku (魏明谷) of the DPP with a support rating of 47.9 percent, Lin with 44.3 percent, Chiayi Mayor Twu Shiing-jer (涂醒哲) of the DPP with 37.6 percent and Penghu County Commissioner Chen Kuang-fu (陳光復) of the DPP with 34.2 percent, the poll showed.
The three incumbents seeking re-election who obtained the highest support were Lienchiang County Commissioner Liu Tseng-ying (劉增應) of the Chinese Nationalist Party (KMT) with 69.9 percent, Taoyuan Mayor Cheng Wen-tsan (鄭文燦) of the DPP with 68.3 percent and Pingtung County Commissioner Pan Men-an (潘孟安) of the DPP with 65.9 percent, the survey showed.
In terms of governance performance, Cheng received the highest approval rating at 77.9 percent among all 20 local government heads, followed by Liu at 77.4 percent and independent Hualien County Commissioner Fu Kun-chi (傅崑萁), who has reached the two-term limit, at 77.2 percent, the poll found.
The worst performers were Lin at 49 percent, Twu at 45.9 percent and Chen Kuang-fu at 40.1 percent, the survey found.
DPP mayors and county commissioners appeared to have become less popular than their KMT and independent counterparts, who received an average approval rating of 65 percent and 64.2 percent respectively, compared with 60.1 percent for DPP leaders, the poll found.
KMT and independent local heads received an average score of 70.7 and 69.6 respectively out of 100 for governance performance, while DPP mayors and county commissioners were given an average score of 67.7, the poll showed.
Asked what would be the best next step for the six mayors and county commissioners stepping down this year, most respondents in New Taipei City said they would like to see New Taipei City Mayor Eric Chu (朱立倫) of the KMT assume an important party post (16.9 percent) or run for president (15.8 percent).
Most respondents in Taitung County said that Taitung County Commissioner Justin Huang (黃健庭) of the KMT should run for a legislative seat, while most respondents in Kaohsiung supported Chen Chu becoming a Cabinet member.
Regarding Hsinchu County Commissioner Chiu Ching-chun (邱鏡淳) of the KMT and Chiayi County Commissioner Helen Chang (張花冠) of the DPP, most respondents in their respective electorates said they hoped to see them retire after their terms expire.
The poll collected 14,347 valid samples and has a confidence level of 95 percent, with a margin of error of between 3.7 and 6.9 percentage points.
Comments will be moderated. Keep comments relevant to the article. Remarks containing abusive and obscene language, personal attacks of any kind or promotion will be removed and the user banned. Final decision will be at the discretion of the Taipei Times.