Pollution, political donation bills pass
PRESCHOOL POLICY: Other amendments require preschool education to prioritize minority and disadvantaged children, and stipulate fines for corporal punishment
Lawmakers yesterday passed an amendment to Article 190-1 of the Criminal Code, which introduced a maximum prison term of seven years and fine of NT$15 million (US$500,200) for companies that pollute the environment.
Under the amendment, people who discard or emit matter that is detrimental to health into the air, soil or water to the point that it jeopardizes public safety faces a maximum prison term of five years and a potential fine of NT$10 million.
If any of the aforementioned actions causes death, the culprit would face a maximum prison term of 10 years, while those who cause others grievous bodily harm would face up to seven years.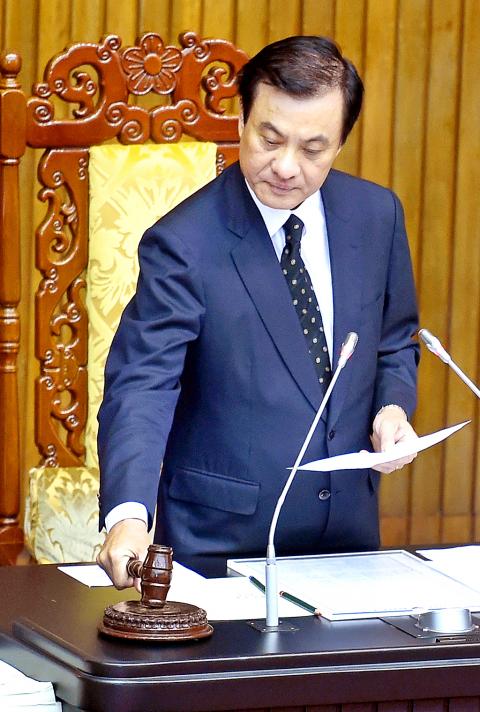 Legislative Speaker Su Jia-chyuan bangs his gavel at the Legislative Yuan in Taipei yesterday to mark the passage of a number of amendments.
Photo: Chu Pei-hsiung, Taipei Times
Owners, supervisors or employees of businesses that commit the aforementioned crimes would face a maximum prison term of seven years and a fine of up to NT$15 million.
People affiliated with a business whose pollution resulted in loss of life would face a jail term of seven years to life, whereas those that cause grievous bodily harm face a prison term of three to 10 years.
Democratic Progressive Party Legislator Tuan Yi-kang (段宜康), who proposed the amendment, said that due to changes in the wording of the section governing businesses, any firm that pollutes the environment would face punishment, regardless of whether their offenses had been carried out "to the point that it jeopardizes public safety" — a stipulation that had stymied enforcement due to the red tape involved in proving guilt.
Lawmakers also approved amendments to the Political Donations Act (政治獻金法), which cap the sum of each donation to presidential candidates and their running mates at NT$25 million and that to mayoral candidates at NT$3 million.
Each donation to city or county councilor candidates must not exceed NT$500,000, or NT$300,000 to Aboriginal district office heads and NT$100,000 to township mayors or borough wardens, it stipulates.
People found in violation are to be fined twice the donated amount.
The amendments are to become effective once they are promulgated and could apply to the nine-in-one local elections in November.
The amount each candidate receives in campaign donations is to be uploaded online for public viewing six months after the deadline for declaring campaign funding.
In other developments, legislators also passed amendments to the Early Childhood Education and Care Act (幼兒教育及照顧法), which more clearly define rules on the establishment of non-profit kindergartens and introduced a fine of up to NT$500,000 for preschools that use corporal punishment.
Under the amendments, central government agencies, as well as municipal, county and city governments, township offices and Aboriginal district offices, may entrust certified non-profit foundations with the task of establishing non-profit kindergartens, while such foundations may also apply to establish non-profit kindergartens with local governments.
The act previously only permitted local governments to establish non-profit kindergartens.
The changes stipulate that preschool education should be carried out with equity across genders, races and cultures, and should prioritize children from financially disadvantaged households, ethnic minorities and mentally or physically disabled children.
Local governments should facilitate preschool education on outlying islands and in remote areas by collaborating with communities or Aboriginal settlements, it says, adding that the latter should help Aboriginal children learn their native languages, history and culture.
Preschool institutions that use corporal punishment would be fined between NT$60,000 and NT$500,000, and those whose owners or employees sexually harass children would be fined between NT$60,000 and NT$300,000, while those that have employees who are found to have used other inappropriate disciplinary measures would be fined between NT$6,000 and NT$30,000.
Comments will be moderated. Keep comments relevant to the article. Remarks containing abusive and obscene language, personal attacks of any kind or promotion will be removed and the user banned. Final decision will be at the discretion of the Taipei Times.