Allies remain a priority: minister
RETURNING THE FAVOR: The Minister of Foreign Affairs said that Taiwan's diplomatic allies have proven useful at this years' WHA and are far from being unimportant
The government would continue to place great importance on relations with the nation's remaining diplomatic allies, despite growing calls to ditch them after four allies in just two years succumbed to Beijing's promises of financial aid and severed ties with Taipei, Minister of Foreign Affairs Joseph Wu (吳釗燮) said yesterday.
Wu made the remarks at National Chengchi University, his alma mater. It was his first public appearance since he announced on Thursday evening Burkina Faso's decision to break ties with Taiwan, becoming the fourth diplomatic ally the nation has lost since President Tsai Ing-wen (蔡英文) took office in May 2016.
"Judging from the situation at this year's World Health Assembly [WHA], there are a lot of things we could not have done without our diplomatic allies," Wu said, in response to a student's question about whether he agreed that Taiwan's diplomatic allies are unimportant because they are "tiny, poor and money-seeking."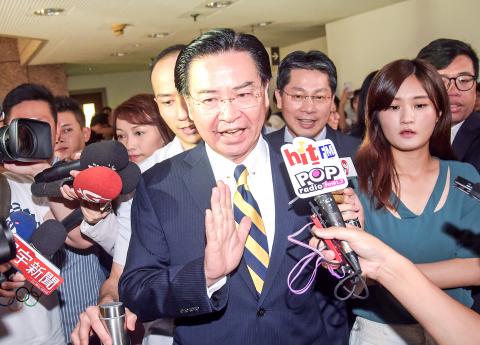 Minister of Foreign Affairs Joseph Wu, center, yesterday refuses to comment on reporters' questions at National Chengchi University, where he delivered a speech.
Photo: Huang Yao-cheng, Taipei Times
Some of the nation's allies submitted proposals calling for Taiwan to participate at the WHA as an observer and engaged in two-on-two debates at the annual conference to advocate for its WHA bid, Wu said.
He also dismissed criticism that the nation's provision of aid programs to its diplomatic allies are unnecessary and a waste of money.
Taiwan's official development assistance only accounts for 0.013 percent of the nation's GDP, compared with Organisation for Economic Co-operation and Development members, which have a target of 0.7 percent, Wu said.
"These kinds of opinions would make the government's effort to increase that ratio extremely difficult, because it would be stifled once such assistance is labeled as 'checkbook diplomacy,'" Wu said, adding that Taiwan's development owes much to assistance offered by other wealthier nations in the past.
Turning to Beijing's growing efforts to limit Taipei's international space, Wu said the key to mitigating the problem lies in carving out a niche.
"The world is a big place and we can find a space anywhere," Wu said, adding that the ministry's goal is to cultivate relationships with more democratic and like-minded nations to offset pressure from Beijing.
The Chinese representation issue was also discussed after two students, one of them a Chinese citizen, asked Wu how he plans to push his government's Taiwan-centric diplomatic policy when it was the Republic of China, rather than Taiwan, with which the nation's remaining diplomatic allies established ties.
"Whether it is Taiwan's diplomatic or non-diplomatic allies, what they recognize is the government popularly elected by the nation's 23 million people. I think there is no mistake about that," Wu said.
Sharing his optimism about closer relations across the Taiwan Strait, Wu said that, as more Chinese begin to understand and appreciate Taiwan, the Chinese government's military and diplomatic aggression would eventually draw the ire of its people.
"I believe that one day, the people of China will become the masters of their own nation, just like their Taiwanese counterparts have done," he added.
Comments will be moderated. Keep comments relevant to the article. Remarks containing abusive and obscene language, personal attacks of any kind or promotion will be removed and the user banned. Final decision will be at the discretion of the Taipei Times.