Tsai presides over opening of rights museum
President Tsai Ing-wen (蔡英文) yesterday vowed to promote international exchange and foreign relations based on respect for human rights as she presided over the opening of the National Human Rights Museum at White Terror Memorial Park on Green Island.
The opening of the museum yesterday marked the 67th anniversary since political prisoners were first incarcerated on Green Island on May 17, 1951.
Accompanied by Minister of Culture Cheng Li-chiun (鄭麗君), Tsai inspected a wall inscribed with names of political prisoners and later watched performances by the Shin Sing Elementary School choir from Taitung County and members of the Tsai Jui-yueh Culture Foundation.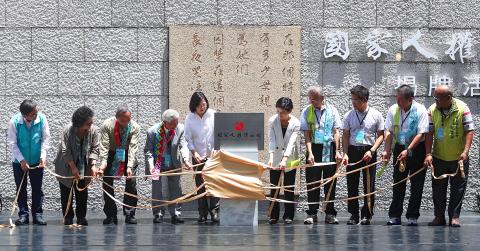 President Tsai Ing-wen, fifth left, Minister of Culture Cheng Li-chiun, fifth right, Presidential Office Secretary-General Chen Chu, second left, Democratic Progressive Party legislator Liu Chao-hao, left, cut the ribbons at the opening ceremony of the National Human Rights Museum on Green Island's White Terror Memorial Park.
Photo: CNA
More than 80 people, including former political prisoners and relatives of those who have passed, attended the event.
"The opening of this museum gives people a better understanding of how much the older generation endured during the White Terror era," Tsai said in her speech.
"Through this museum, we hope the younger generation will understand the importance of freedom and continue to strive for human rights from the lessons learned through history," she said.
Tsai also expressed hope that the museum — which occupies the site of a former prison for political detainees — would help promote human rights education within government agencies and serve as a platform to show the rest of the world that Taiwan is not afraid to reflect on its history.
The transitional justice promotion committee, which is to be officially established on Sunday, will work with local governments to launch a human rights education network, with projects designed to breathe new life into sites across the nation that bore witness to human rights violations, Cheng said.
The 228 Incident refers to a brutal crackdown by the then-Chinese Nationalist Party (KMT) government headed by Chiang Kai-shek (蔣介石) after an anti-government uprising in 1947. The crackdown, which continued into May that year, left about 18,000 to 28,000 people dead, according to government figures.
The period immediately following the 228 Incident — during which political dissidents were suppressed, imprisoned and killed — is known as the White Terror era. It lasted until the lifting of martial law in 1987.
Comments will be moderated. Keep comments relevant to the article. Remarks containing abusive and obscene language, personal attacks of any kind or promotion will be removed and the user banned. Final decision will be at the discretion of the Taipei Times.