APIC students, teachers protest ministry's inaction
About 40 teachers and students from the Asia-Pacific Institute of Creativity (APIC) in Miaoli County yesterday demanded that the Ministry of Education dismiss the school's board to save it from closure.
"We are here because the ministry has done little to address the board's poor management and to protect the rights of APIC's teachers and students, even though we have protested multiple times over the past year," Taiwan Higher Education Union organization department director Lin Po-yi (林柏儀) said at the protest outside the ministry in Taipei.
Since Yi-shen Group chairman Huang Ping-chang (黃平璋) became APIC chairman in August 2016, the school has lost five of its presidents, stopped recruiting students for all of its programs, forced hundred of students to transfer and avoided paying teachers, he said.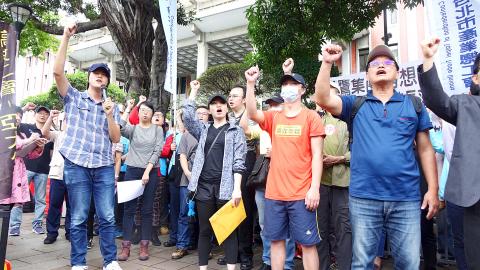 Teachers and students from the Asia-Pacific Institute of Creativity in Miaoli County's Toufen raise their fists yesterday as they stage a sit-in protest in front of the Ministry of Education in Taipei.
Photo: George Tsorng, Taipei Times
"Although the school's chairman and president resigned last week, Yi-shen members still make up 80 percent of the board. If the ministry does not intervene, they will continue to control the school," he said.
To better protect the rights of APIC teachers and students, the ministry should petition for the removal of all board members, as stipulated by Article 25 of the Private School Act (私立學校法), and form a new board consisting of teachers and student representatives, he said.
If APIC is forced to close because of the board's poor management, board members would have the opportunity to either illegally take the school's assets totaling NT$1.6 billion (US$53.7 million), or run a different educational institution or social welfare organization using the money, as a draft bill on private colleges proposed by the Executive Yuan plans to allow, he said.
"The school's upper management told us this morning it has no more funding and that it is preparing to close the school," said Huang Hui-chih (黃惠芝), who has been a teacher at APIC for 20 years.
If the school closes, teachers would lose their jobs and students would be forced to transfer or drop out, she said, adding that the ministry would also have to decide what to do with the school's assets.
A second-year student surnamed Kuan (官) in the school's Department of Ceramic Art said that if APIC closed, he could not transfer anywhere else, as APIC offers the nation's only program for ceramic tea set design.
"I just want to complete my study and build my skills. My only request is that the ministry allow the school to exist until we complete our degrees," he said.
"The ministry has been extremely proactive when dealing with [National Taiwan University president-elect] Kuan Chung-ming (管中閔), but when students at APIC are forced to transfer and have no classes to attend, the ministry has done nothing," Taiwan Higher Education Union secretary-general Chen Cheng-liang (陳政亮) said.
The ministry must intervene in APIC's management to show that it does not have a double standard, he added.
Despite warnings from police, APIC teachers and students have set up two tents on Zhongshan S Road and vowed to remain until the ministry issues a proper response.
Comments will be moderated. Keep comments relevant to the article. Remarks containing abusive and obscene language, personal attacks of any kind or promotion will be removed and the user banned. Final decision will be at the discretion of the Taipei Times.