Taiwanese rally at embassy
SUPPORT: The government would protect the rights and interests of Taiwanese in the Dominican Republic, despite the setback, Ambassador Tang Ji-zen said
Taiwanese expatriates in the Dominican Republic on Tuesday converged on the nation's embassy in Santo Domingo to express their support after the Caribbean nation severed diplomatic ties with Taipei.
The Dominican Republic on Monday announced it was cutting ties with Taipei, ending its 77-year-long diplomatic relationship with the Republic of China.
The government would fully protect the rights and interests of Taiwanese living in the Dominican Republic, despite the development, Ambassador to the Dominican Republic Tang Ji-zen (湯繼仁) said.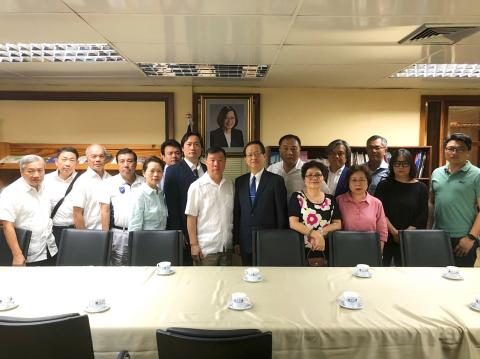 A group of Taiwanese expatriates pose at the Republic of China embassy in the Dominican Republic yesterday during a visit to show their support fort Taiwan after the Caribbean nation on Monday cut its diplomatic ties with Taipei.
Photo courtesy of the Overseas Community Affairs Council
The Ministry of Foreign Affairs on Monday attributed the development to China's promise of a US$30 billion investment in the Dominican Republic.
The decision has left Taiwan with 19 diplomatic allies.
The ministry said it would immediately cease aid programs in the Dominican Republic and withdraw its skilled technicians who were assisting with development projects.
Representatives of the Taiwanese community in the Dominican Republic contacted the embassy to express their gratitude for its work and to express solidarity with Taiwan, the Overseas Community Affairs Council said.
Tang thanked the community for their support and said the embassy would negotiate with the local government to ensure that the rights and interests of Taiwanese are protected.
Responding to questions from the council regarding how consular services would be provided, including passport issuance and arranging study in Taiwan for members of the overseas community, Tang said he would make an announcement after Taipei issues instructions.
Key figures in the overseas community in Santo Domingo, including head of the council's office in the Dominican Republic Hsieh Cheng-min (謝政民), office consultant Chang Chia-sheng (張加昇) and Council of Taiwanese Chambers of Commerce in the Dominican Republic chairman Chen Leng-fan (陳睖帆), attended the one-hour visit to the embassy, the council said.
In related news, Premier William Lai (賴清德) yesterday said that annexing Taiwan is Beijing's national policy and strategy, as evidenced by the way it continues its efforts to lure Taiwan's diplomatic allies and block the nation's international participation.
Lai made the comment in response to media queries about whether the move was China's retaliation for his assertion that he is a "political worker for Taiwanese independence."
Lai said he hoped the public and all political parties would work together as the government responds to the growing threat China poses by courting the nation's diplomatic allies and undermining its national interests.
Comments will be moderated. Keep comments relevant to the article. Remarks containing abusive and obscene language, personal attacks of any kind or promotion will be removed and the user banned. Final decision will be at the discretion of the Taipei Times.