Taipei rally calls for end to sexual assault myths
AWARENESS: The Modern Women's Foundation urged Taiwanese to participate in Denim Day after a survey found that misconceptions about assault are common
About 1,000 people yesterday participated in a rally in Taipei to support the #MeToo movement against sexual assault and harassment, and calling for an end to a culture that prevents victims from speaking out.
Participants wore masks during the rally to symbolize society placing the blame on victims of sexual violence. Toward the end of the rally, participants took off their masks and threw them in the air to symbolize breaking free from the shackles of shame.
Garden of Hope Foundation chief executive officer Chi Hui-jung (紀惠容) said her group organized the rally because the #MeToo campaign in Taiwan has been more quiet than elsewhere.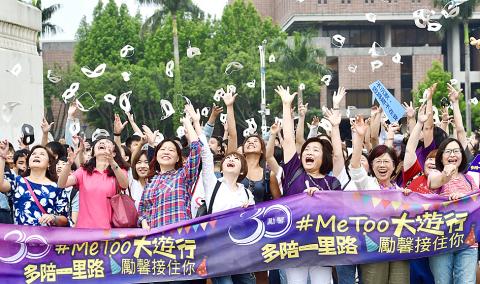 People participating in a #MeToo rally, which was organized by the Garden of Hope Foundation in Taipei yesterday, throw their masks in the air to symbolize breaking free from the shackles of shame.
Photo: Peter Lo, Taipei Times
Victims of sexual assault do come forward, but only sporadically, Chi said.
Taiwanese society needs to break free from the myths surrounding sexual assault, which prevent victims from speaking out, she said.
Democratic Progressive Party Legislator Yu Mei-nu (尤美女) and Chinese Nationalist Party (KMT) Legislator Alicia Wang (王育敏) were among those who attended the event at the Chiang Kai-shek Memorial Hall.
The #MeToo movement began last year as a hashtag on social media to encourage people to speak about their experiences of being sexually assaulted and harassed, following sexual abuse allegations against Hollywood producer Harvey Weinstein.
Separately, the local Modern Women's Foundation is urging Taiwanese to join people around the world by wearing jeans on Denim Day on Wednesday to raise awareness about sexual violence in solidarity with rape victims.
The foundation on Friday released a survey detailing attitudes to sexual assault.
Sixty-five percent of all respondents and 70 percent of male respondents agreed that a woman bears some responsibility for being sexually assaulted if she behaves too casually, wears sexy clothing or frequents nightclubs, the survey showed.
Sixty-one percent of all respondents and 67 percent of male respondents said that sexual assault victims fail to adequately protect themselves, which contributes to them being attacked, the survey showed.
Men endorse such ideas more than women, the survey found.
Sixty-six percent of male respondents believe a woman wants to have sex if she is alone in a room with a man, while 64 percent of men believe a woman wants to have sex if she wears sexy clothes. Forty-eight percent and 46 percent of female respondents held the same views, respectively.
The survey shows a majority of Taiwanese still have many misconceptions about sexual assault, the foundation's chief executive officer Jack Van (范國勇) said.
It is normal social behavior for a woman to visit nightclubs, drink alcohol and be alone with a man, and it does not necessarily mean she wants to have sex, Fan said.
The survey, which was conducted between March 29 and April 5, collected 1,111 valid samples from respondents over the age of 15. It has a margin of error of 2.9 percentage points.
The foundation urged Taiwanese to upload photographs of themselves wearing jeans to their social media pages on Wednesday, and add the hashtag #onlyYESmeansYES to their posts.
Denim Day originated in the 1990s in Italy when the Italian Supreme Court overturned a rape conviction on the grounds that the jeans worn by the victim were too tight to have been removed by the suspect alone, implying that the woman must have consented.
The case took place in 1992 and involved an 18-year-old woman who accused her 45-year-old driving instructor of rape.
Comments will be moderated. Keep comments relevant to the article. Remarks containing abusive and obscene language, personal attacks of any kind or promotion will be removed and the user banned. Final decision will be at the discretion of the Taipei Times.