KMT hopefuls debate plans for Taipei
CULTURAL CAPITAL: The four aspirants agreed on expanding exchanges with China and resolving the Taipei Dome issue, but were divided regarding Songshan airport
Chinese Nationalist Party (KMT) Taipei mayoral candidate hopefuls yesterday called for closer exchanges with China and the "reinvigoration of Chinese culture" to boost the capital's economy and tourism, and laid out plans for the Taipei International Airport (Songshan airport) and Taipei Dome projects.
The proposals were made at the first televised debate for the KMT's four aspirants: Taipei City Councilor Chung Hsiao-ping (鍾小平), former Mainland Affairs Council deputy minister Chang Hsien-yao (張顯耀) and former KMT legislators Ting Shou-chung (丁守中) and Sun Ta-chien (孫大千).
The debate, organized and aired by CtiTV, came the week before the KMT headquarters is scheduled to conduct a telephone poll from Sunday next week to May 1 to decide its candidate.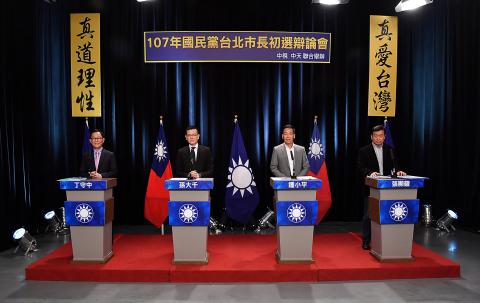 Former Chinese Nationalist Party (KMT) legislators Ting Shou-chung, left, and Sun Ta-chien, second left, KMT Taipei City Councilor Chung Hsiao-ping, second right, and former Mainland Affairs Council deputy minister Chang Hsien-yao yesterday participate in the first televised debate between the party's Taipei mayoral candidate hopefuls.
Photo: CNA
A focus of the debate was the annual twin-city forum, which has been held in Taipei and Shanghai on a rotating basis since 2010 to promote exchanges between the cities.
There have been allegations that Taipei Mayor Ko Wen-je (柯文哲), who is seeking re-election, has decided to postpone this year's forum in Taipei until after the election due to political concerns.
"At a time when President Tsai Ing-wen's (蔡英文) and Premier William Lai's (賴清德) political stances have caused cross-strait relations to stall and have led to frequent Chinese military drills, the need to strengthen exchanges at the local level has grown even greater," Ting said.
If elected, Ting said he would push for a similar twin-city forum with other major Chinese cities, such as Beijing and Shenzhen, as well as cities in other nations that provide Taiwan and Taipei with good business opportunities.
Chang agreed, but also proposed establishing city-level representative offices in Chinese cities with a large number of Taiwanese businesspeople, while Sun pledged to make sure that the annual forum yields achievements not only in politics, but also in culture and innovation.
Regarding tourism, Chung said that the city should make the best of the National Palace Museum and its rich collection of ancient Chinese artifacts and art, instead of pursuing a "desinicization" movement.
"Chinese fever is everywhere around the world — why would anyone still want to pursue desinicization? We must reinvigorate the 5,000-year-old Chinese culture here, because that is our most valuable appeal," Chung said.
All four hopefuls vowed to put a swift end to the scandal surrounding the Taipei Dome, the construction of which has been suspended for more than two years due to safety concerns.
Ting said he would complete the project as soon as possible, while Chang said he would make a decision within three months of his election on whether to tear down, resume construction or redesign the dome.
While Chung said he plans to terminate the contract between the Taipei City Government and Farglory Group and start new negotiations, Sun said that the dome's fate should be determined by the contract.
The four were divided on Songshan airport, with Chung and Chang advocating for its immediate relocation to allow further development of the neighboring areas, and Ting and Sun saying that such a move would not be possible until after a third terminal is built at Taiwan Taoyuan International Airport.
Comments will be moderated. Keep comments relevant to the article. Remarks containing abusive and obscene language, personal attacks of any kind or promotion will be removed and the user banned. Final decision will be at the discretion of the Taipei Times.