Generals' pensions spark conflict
'STIGMATIZING' VETERANS? Legislator Tuan Yi-kang said his remarks were directed at 'greedy' retired generals. The KMT caucus plans to block reform until Tuan apologizes
Democratic Progressive Party (DPP) Legislator Tuan Yi-kang (段宜康) yesterday fired back at the Chinese Nationalist Party (KMT) caucus who accused him of creating a rift in society with his criticism of retired generals demanding higher pensions.
Tuan, an outspoken proponent of pension reform, made the remarks on Wednesday during a meeting at the Legislative Yuan's Foreign and National Defense Committee lawmakers with Veteran Affairs Council Minister Chiu Kuo-cheng (邱國正)
The KMT caucus earlier yesterday held a news conference accusing Tuan of causing a divide in society and "stigmatizing" veterans who had devoted their lives to defending the nation.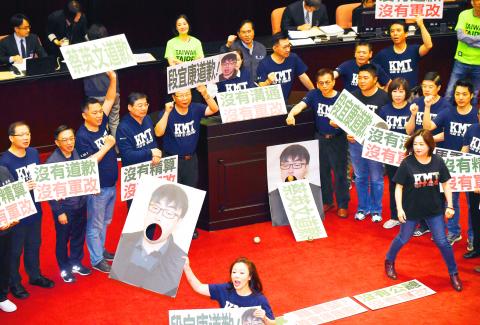 Chinese Nationalist Party (KMT) caucus secretary-general Lee Yen-hsiu, front, holds a picture of Democratic Progressive Party Legislator Tuan Yi-kang as she leads members of the KMT caucus in a protest at the Legislative Yuan in Taipei yesterday.
Photo: CNA
The KMT caucus added that it would boycott the Cabinet's pension reform plan for veterans until Tuan apologizes.
In response, Tuan accused the KMT of distorting his words, which were directed at retired generals and not all veterans.
According to a formula in the bill, retired generals and lieutenant generals who have served for 35 years are eligible for a monthly pension exceeding NT$170,000.
The draft bill unreasonably favors a handful of tenured former military officers, which is disproportionate compared with the package introduced for military personnel with fewer years of service, Tuan said.
An agreement reached during the Presidential Office's Pension Reform Committee meetings already promises qualified retired generals and lieutenant generals a generous monthly pension of NT$150,000, but that apparently was not enough to satisfy retired military officers leading the negotiations with the government, Tuan said.
"I cannot think of any way to describe them other than greedy," Tuan said.
It is the KMT caucus that is causing social division by deliberately misrepresenting him to curry favor with retired generals, he said.
"I believe the KMT caucus owes me an apology," he said.
Comments will be moderated. Keep comments relevant to the article. Remarks containing abusive and obscene language, personal attacks of any kind or promotion will be removed and the user banned. Final decision will be at the discretion of the Taipei Times.