Labor rights groups protest AmCham
LOBBYING: The organization recommended relaxing rules to free firms of work hour limits, which one group leader said was a bid to turn local workers into slaves
Labor rights groups yesterday protested against the American Chamber of Commerce in Taipei (AmCham) for what they called its pressuring of the government into relaxing labor standards, urging workers to join a march advocating workers' rights on Labor Day next month.
About 30 members of various labor groups rallied in front of AmCham's office on Minsheng E Road in Taipei, holding banners and shouting: "Taiwanese are dying from overwork as American bosses swim in cash."
"We believe AmCham played a major role in lobbying for the current version of the Labor Standards Act (勞動基準法), which is expected to increase death from overwork," Taiwan Higher Education Union researcher Chen Po-chien (陳柏謙) said.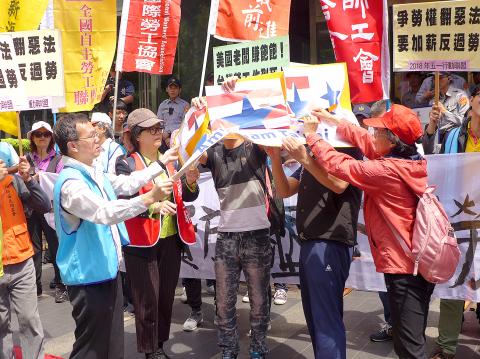 Members of labor groups protest in front of the American Chamber of Commerce in Taipei's office yesterday.
Photo: Lee Ya-wen, Taipei Times
In June last year, AmCham released a white paper calling for more flexibility when planning workers' schedules, despite Taiwan already having the fifth-longest working hours in the world, he said.
"AmCham chairman Albert Chang (章錦華) criticized the 'one fixed day off and one flexible rest day' policy, saying that its inflexibility is almost unparalleled in the world," Chen said.
Chang also advocated the nationwide implementation of the four-week "flexitime" schedule" — which is only allowed for a handful of sectors — saying that previous limits on work hours would scare away foreign talent, Chen said.
He added that after the government amended the act following AmCham's suggestion, Executive Yuan spokesman Hsu Kuo-yung (徐國勇) immediately said the organization highly approved of the new law.
Many companies that are members of AmCham have been embroiled in labor disputes, including Micron Technology, which illegally fired union members, and glass manufacturer Corning and insurance firm Cigna, which illegally avoided paying employees, Chen said.
Last month, AmCham openly recommended relaxing Article 84-1 of the act, Labor Rights Association executive director Wang Chuan-ping (王娟萍) said.
The article defines special circumstances in which companies can be freed of work hour limits and rest day regulations.
If they succeed, the entire act would become useless, she said.
"AmCham wants to make Taiwanese workers their slaves. It is outrageous," Wang said.
The demonstrators called on workers nationwide to join their fight to improve labor rights by participating in their march on May 1.
"At the march, we will demand better workers' rights, higher pay and say no to overwork. We will also promote two referendums that we have proposed," Chen said.
One of the proposed referendums aims to nullify the amendments to the act that took effect last month, while the other aims at reinstating seven national holidays that the Democratic Progressive Party canceled in exchange for support for a December 2016 amendment to the act implementing the "one fixed day off and one flexible rest day" labor policy, he said.
The rally concluded with the protesters tearing up a cardboard AmCham logo and throwing the debris on the pavement in front of the organization's office.
Comments will be moderated. Keep comments relevant to the article. Remarks containing abusive and obscene language, personal attacks of any kind or promotion will be removed and the user banned. Final decision will be at the discretion of the Taipei Times.