Water office to create rain as Tainan supplies dry up
ALL FRONTS: Among other measures, Tainan has drawn 6 million tonnes of water from Kaohsiung since summer, improved irrigation efficiency and done more dredging
Officials are to attempt to create artificial rain over Tainan's three reservoirs tomorrow as the region faces a potential water shortage, a Water Resource Agency official said yesterday.
As water levels at the Zengwen (曾文), Nanhua (南化) and Wushantou (烏山頭) reservoirs continue to drop, members of the public have expressed concern that the agency could start first-phase water rationing, in which water pressure is reduced during the night.
As of yesterday, the Zengwen Reservoir was at 11.55 percent of its maximum capacity, with its water level down to 193.3m, while the Nanhua Reservoir — the main source of residential water supply in the city — had only 38.76 percent left, with a water level of 166.42m, the agency said.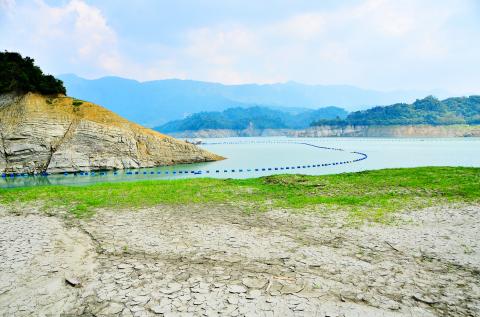 The dried-up Zengwen Reservoir in Tainan, which is currently filled to 11.5 percent of its capacity, is pictured yesterday.
Photo: Wu Chun-feng, Taipei Times
The agency's Southern Region Water Resources Office is fully prepared to commence rainmaking from atop the dams of the three reservoirs starting at 5am on Sunday, as a cold front is expected to arrive tonight, office deputy director Chien Chen-yuan (簡振源) said yesterday.
Two precipitation agents are to be set off at the three reservoirs, and the amount is to be adjusted with changes in weather conditions, he said.
Water supply in the region this month is the 11th-lowest measured in April, Chien said, adding that the agency began negotiating water use ahead of schedule in September last year.
For example, it asked the Chia-nan Irrigation Association to increase the efficiency of irrigation systems in Tainan and Chiayi County, and the association has saved more than 90 million cubic meters of water, he said.
The office has reserved water for residential and agricultural uses, and is keeping an eye on the storage capacity of the three reservoirs, he said, adding that it has also been working to dredge more sediment from the reservoirs.
The public need not worry about water shortages, but is advised to save water whenever possible, he said.
Since August last year, the agency has drawn 6 million tonnes of water from Kaohsiung to help satisfy Tainan's water demand.
Kaohsiung's water mainly comes from the Gaoping River (高屏溪), the flow of which is still sufficient for use by local residents, Chien said, adding that the Central Weather Bureau has forecast rain in the city.
Until the plum rain season, the office would warn of any changes in water storage, along with local irrigation associations, state-run Taiwan Water Corp (台水) and other government agencies that govern industrial use of water, it said.
Additional reporting by Hung Chen-hung and Tsai Ching-hua
Comments will be moderated. Keep comments relevant to the article. Remarks containing abusive and obscene language, personal attacks of any kind or promotion will be removed and the user banned. Final decision will be at the discretion of the Taipei Times.