Group sues minister over NTU controversy
AUTONOMY: The Ministry of Education's refusal to approve Kuan Chung-ming's election has affected talent recruitment and academic exchanges, it said
National Taiwan University's (NTU) Action Alliance for University Autonomy yesterday accused the minister of education and a ministry employee of malfeasance in connection with the stalled confirmation of university president-elect Kuan Chung-ming (管中閔).
The alliance filed a lawsuit against Minister of Education Pan Wen-chung (潘文忠) and Department of Personnel Director Chen Kun-yuan (陳焜元), while about a dozen professors and students from the university, along with some alumni protested outside the Taipei District Prosecutors' Office.
The protesters held banners that read "Safeguard university autonomy" and "How much longer must NTU take the insults?"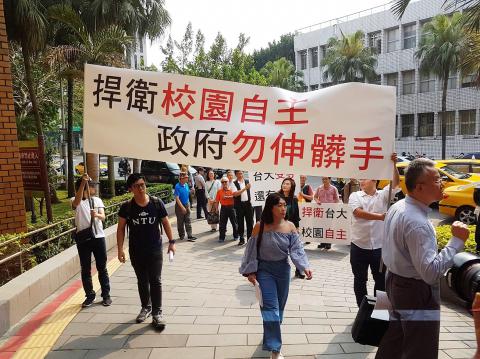 Members of National Taiwan University's Action Alliance for University Autonomy yesterday hold up a banner reading "Safeguard university autonomy, the government should keep its dirty hands off" during a protest in Taipei.
Photo: Hsieh Chun-lin, Taipei Times
Chou Chung-hsi (周崇熙), a School of Veterinary Medicine professor and one of the alliance's founders, said the university has been without a formal president since Yang Pan-chyr (楊泮池) stepped down in June last year.
The lack of leadership has created great difficulties in recruiting talent and conducting academic exchanges, Chou said.
Contract employees received their last payment last month because the university's acting president does not have the power to approve budgets, Chou said, adding that this has forced many of those with contracts to resign.
Accusing the Ministry of Education of procrastination, Chou said the aim of the lawsuit was to encourage it to approve Kuan's election as soon as possible.
"[Kuan's] appointment is a very simple case, but the government has invested so many resources to investigate him and allowed the process to drag on for so long," he said.
The lawsuit was collectively filed by 36 teachers, students and alumni, he added.
"Many people want professor Kuan to address the public and help clarify things, but let's be honest, even if he did that today, would he be approved tomorrow? Would they believe what he says?" Chou asked.
Whether it be Kuan or Minister of the Interior Yeh Jiunn-rong (葉俊榮), "academic exchanges should always be encouraged," he said.
The ones who should be condemned are those who know that academic exchanges are perfectly normal, yet decide to stigmatize such activities, he said.
The university's selection committee on Jan. 5 voted for Kuan, who was originally scheduled to take office on Feb. 1.
However, accusations of conflict of interest, plagiarism and illegally teaching in China have delayed his appointment.
The University Act (大學法) and the Constitution require the education ministry to approve each university president's appointment.
The education ministry formed a task force to investigate the allegations, which is expected to reach a conclusion later this month.
Chinese Nationalist Party (KMT) member Yu Shu-hui (游淑慧) earlier this week accused Yeh of having illegally taught at two law schools in China.
Yeh said he only gave some lectures and was not formally hired by the Chinese universities, but the allegation has led to criticism that the ministry has followed a double standard in the way it has dealt with accusations against the two men.
Additional reporting by Wu Po-hsuan
Comments will be moderated. Keep comments relevant to the article. Remarks containing abusive and obscene language, personal attacks of any kind or promotion will be removed and the user banned. Final decision will be at the discretion of the Taipei Times.