Lack of money, work hours keep birthrate low: survey
Inadequate finances, inability to buy a home and long work hours are the three major reasons for Taiwan's low birthrate, according to a yes123 online job bank survey released yesterday.
The survey found that 63 percent of office workers aged 20 and above who responded to the poll had no children and of those, 48 percent did not plan to start a family.
In answering a multiple-choice question about why they did not want children, 66.3 percent of those respondents said they were worried about earning enough to raise a child, 42.2 percent said they could not afford to buy a home for a family and 28.9 percent said they were too busy with work.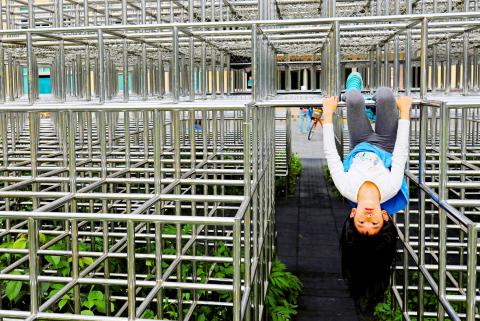 A child plays on a jungle gym at a playground in Taipei on March 25.
Photo: Tyrone Siu, Reuters
Other reasons cited were dissatisfaction with the nation's education system (23.5 percent) and concerns about serious social problems and the effect on children (21.9 percent).
The survey results show the nation's low birthrate is related to not only low salary levels, pay freezes and long working hours, but also high housing prices, the educational environment and social order, yes123 spokesman Yang Tsung-bin (楊宗斌) said.
The survey also found that respondents believe it takes an average monthly household income of about NT$102,210 to raise a child: NT$108,435 in the six special municipalities and NT$86,971 in other cities and counties.
Based on those findings, the best way for the government to boost the birthrate would be to increase the minimum wage and call on companies to raise salaries through industrial transformation, while working to improve social welfare and social security, the company said.
The survey was conducted from March 15 to Tuesday last week among job seekers aged 20 and above through online questionnaires, with 1,236 valid samples collected, including 692 from people who are married (434 of whom have children) and 544 from single people (23 who have children).
It had a confidence level of 95 percent and a margin of error of 2.79 percentage points.
Comments will be moderated. Keep comments relevant to the article. Remarks containing abusive and obscene language, personal attacks of any kind or promotion will be removed and the user banned. Final decision will be at the discretion of the Taipei Times.