Young KMT hopefuls launch 'blue power' coalition, express support for old guard
A dozen younger prospective Chinese Nationalist Party (KMT) candidates for the Nov. 24 city and county councilor elections yesterday established a youth coalition, urging party headquarters to give young party members more visibility.
The Young Blue Power (藍色新力量) coalition was launched at a news conference at the Legislative Yuan amid renewed calls for increased youth participation, echoing similar voices after the KMT's poor showing in the local and presidential races in 2014 and 2016 respectively.
The coalition consists of 12 aspiring KMT candidates for city and county councilor positions in Taipei, New Taipei City, Taichung and Kaohsiung, and Nantou, Chiayi and Taitung counties.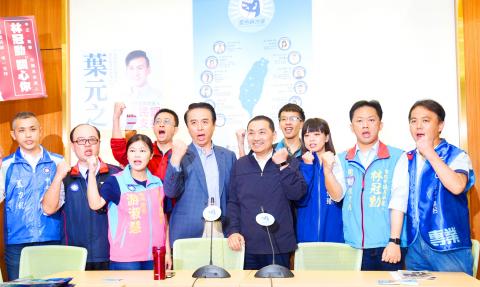 Members of the Chinese Nationalist Party's (KMT) new youth coalition yesterday hold a news conference at KMT headquarters in Taipei.
Photo: Liu Hsin-de, Taipei Times
Noteworthy members include KMT Vice Chairman Hau Lung-bin's (郝龍斌) office spokeswoman Yu Shu-hui (游淑慧), who hopes to run in Taipei's Neihu (內湖) and Nangang (南港) districts; New Taipei City Mayor Eric Chu's (朱立倫) secretary Chiang I-chen (江怡臻), who is vying to stand in that city's Tucheng (土城), Shulin (樹林), Sansia (三峽) and Yingge (鶯歌) districts; and former KMT spokesman Hu Wen-chi (胡文琦), who is vying for a seat in the city's Yonghe District (永和).
"The KMT must stand alongside these young candidates. It should also make an effort to cultivate young talent, and encourage young people to participate in politics and contribute to Taiwan," New Taipei City Deputy Mayor Hou You-yi (侯友宜) said at the event.
If elected, young candidates would remember the reasons that motivated them to run for public office and never cease to speak up for the "silent majority," Hou said.
He also used the event to call on the public to support his election bid, as the KMT is to conduct opinion polls for New Taipei City's mayoral primary election from today to Thursday.
KMT Legislator Apollo Chen (陳學聖), who was elected Taipei city councilor at the age of 32 in 1989, said the party has not done enough to provide a podium for its talented young members to shine.
Although the event was held to announce the new coalition, it somewhat lost focus due to the presence of Hou and Chen, who on Wednesday last week won the KMT's nomination for the Taoyuan mayoral election.
The seven coalition members who attended the event jointly expressed their support for Hou, who is competing against two other prospective candidates, including former Taipei County commissioner Chou Hsi-wei (周錫瑋).
Comments will be moderated. Keep comments relevant to the article. Remarks containing abusive and obscene language, personal attacks of any kind or promotion will be removed and the user banned. Final decision will be at the discretion of the Taipei Times.