Lawmakers decry development loan
HIGH RISK: Drawing NT$700 billion from the Agricultural Bank of Taiwan for overseas construction projects could be dangerous, as Taiwan might not be repaid, they said
Lawmakers yesterday urged the government not to draw NT$700 billion (US$24 billion) from agricultural banks to fund Official Development Assistance (ODA) spending on infrastructure projects in Southeast Asia, saying the program is politically and financially risky.
President Tsai Ing-wen (蔡英文) on Sept. 25 last year announced that the government would launch a program to help local businesses bid for construction projects in Southeast Asian nations and Taiwan's diplomatic allies.
The government would budget more than NT$100 billion for loans, Tsai said, calling on Taiwanese businesses to work with the government to boost the nation's leverage on the global stage.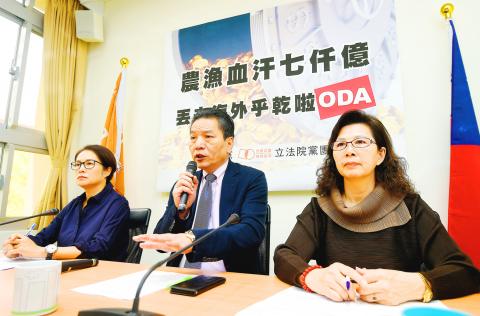 People First Party caucus convener Lee Hung-chun, center, yesterday speaks at a news conference at the Legislative Yuan in Taipei.
Photo: Fang Pin-chao, Taipei Times
However, the program has drawn much criticism from opponents who have said it lacks clear direction and a source of funding.
The government has not revealed more details about the program, but is already planning to draw an additional NT$700 billion from the Agricultural Bank of Taiwan, People First Party (PFP) caucus convener Lee Hung-chun (李鴻鈞) told a news conference in Taipei yesterday, adding that the program might end up as another instance of failed "dollar diplomacy."
The program is both politically and financially risky, as all Southeast Asian nations endorse Beijing's "one China" principle and none have diplomatic ties with Taiwan, Lee said, adding that it is possible Taiwan would not be able to collect payments on debt incurred in the projects.
It is also questionable whether Taiwanese developers are competitive enough to undertake construction projects abroad, given that most of the nation's infrastructure projects were carried out by foreign firms, he said.
Instead of embarking on such a precarious program, the nation should leverage its medical and disaster prevention resources to promote its New Southbound Policy, Lee said, advising the government to offer training to medical workers from Southeast Asia.
The bank is sitting on NT$500 billion in "idle funds," but those should be invested in agriculture, especially now that the sector is facing problems, such as a labor shortage and the need to boost efficiency, Non-partisan Solidarity Union Legislator May Chin (高金素梅) said.
Democratic Progressive Party lawmakers proposed using the bank's funds at the legislature's Finance Committee, but the plan has not yet been approved by the Legislative Yuan, Chin said in response to reporters' questions.
Late yesterday, the bank said in a statement that it has no plans to join the ODA program.
The Council of Agriculture's Bureau of Agricultural Finance, the bank's supervising agency, is not aware of any such plan either, bureau Deputy Director-General Chou Juo-nan (周若男) said separately.
Comments will be moderated. Keep comments relevant to the article. Remarks containing abusive and obscene language, personal attacks of any kind or promotion will be removed and the user banned. Final decision will be at the discretion of the Taipei Times.