Commendations do not cover overtime: police
NATION'S PROTECTORS: The Taiwan Police Union said that officers last year were paid NT$35 million less than they should have earned because of overtime pay limits
Police and fire department officers yesterday accused the government of making them work for free after they reach their monthly overtime limits.
According to Article 23 of the Civil Service Protection Act (公務人員保障法), civil servants should receive overtime pay, compensatory time off, and rewards or equivalent compensation for overtime work, said a police officer nicknamed Ta Pai (大白), who wore a mask at the news conference yesterday.
In 2000, the Executive Yuan set limits for police working overtime. Under the regulations, police are not paid for overtime work when their monthly overtime exceeds 100 hours or when their monthly overtime pay exceeds NT$17,000 (US$583).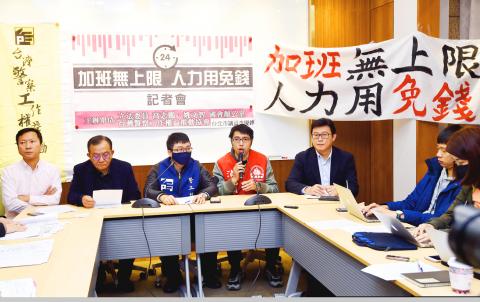 National Association for Firefighters' Rights president Yang Shih-wei, fourth left, speaks at a news conference given by the association and Democratic Progressive Party legislators Pasuya Yao, fifth left, and Gao Jyh-peng, second left, in Taipei yesterday.
Photo: Chien Jung-fong, Taipei Times
If they exceed the limit, they only receive compensatory time off or a written commendation, which the government considers a reward equivalent to overtime pay.
Among police, this rule has come to be known as the "volunteer police program clause," because it has allowed government agencies to overwork them and not pay them for it.
The Labor Standards Act (勞動基準法) does not apply to civil servants and officials do not recognize police labor unions, making it impossible for police officers to negotiate their work conditions, said Ta Pai, who is also a Taiwan Police Union member.
The union demanded that the government abolish the limits for overtime pay, provide overtime pay at rates stipulated by the labor law, and release police work hours and other related information.
According to the union, the Taipei City Police Department last year paid its officers NT$35 million less than they should have earned because of the overtime pay limits.
The number would have been about 10 times more if police officers had been given overtime pay of between 1.33 times and 1.66 times their hourly wages, as stipulated by the labor law, the union said.
Firefighters last year pointed out similar problems and government officials responded by saying they would look into it, but never responded, National Association for Firefighters' Rights president Yang Shih-wei (楊適瑋) said.
When prolonged work hours become the new norm for police, the quality of law enforcement and police labor rights are all sacrificed, Democratic Progressive Party Taipei City Councilor Lee Ching-feng (李慶鋒) said.
The personnel turnover rate at police departments would continue to rise if the issue remains unsolved, Lee added.
Directorate-General of Personnel Administration official Huang Yue-ying (黃悅茵) said that because abolishing the overtime pay limits involves government budgets, the Ministry of the Interior would have to thoroughly review the issue and work with local governments to decide how to handle it best.
Comments will be moderated. Keep comments relevant to the article. Remarks containing abusive and obscene language, personal attacks of any kind or promotion will be removed and the user banned. Final decision will be at the discretion of the Taipei Times.