Ex-VP Annette Lu slams 'fake' polls, presents policies
Former vice president Annette Lu (呂秀蓮) at a news conference in Taipei yesterday again vowed to run for Taipei mayor, adding that the Democratic Progressive Party (DPP) should let anyone who is interested join the election race, rather than use "fake polls" to hinder candidates.
Lu, 73, was vice president from 2000 to 2008 under then-president Chen Shui-bian (陳水扁).
While the DPP often used opinion polls to select candidates, Lu questioned their credibility, saying that "fake polls" have been linked to important events across the world, including the US presidential election last year.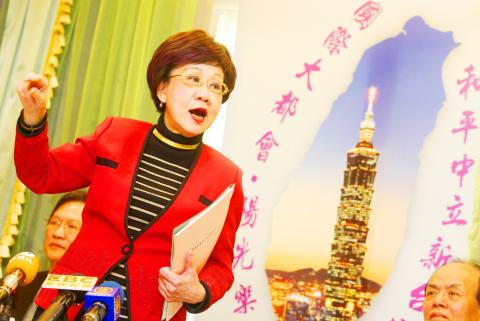 Former vice president Annette Lu, who plans to run in the Taipei mayoral election, presents her policy platform at a news conference in Taipei yesterday.
Photo: CNA
If the DPP is unable to recommend a candidate, it should open the race to anyone, she said, adding that participants should personally shoulder the political responsibility.
Certain people around President Tsai Ing-wen (蔡英文) continue to push for an electoral alliance with Taipei Mayor Ko Wen-je (柯文哲) to manipulate the media, but Tsai — as DPP chairperson — should decide on the matter, because the Nov. 24 elections serve as her "mid-term exams," Lu said.
People who supported Ko in the 2014 mayoral election should reflect on their choice, she added.
Saying that Taipei has lost its brilliance, Lu announced a series of policy goals she believes could rescue the city from further decline.
She would set up more rest areas for taxi drivers, which would lower air pollution because they would not be sitting in idle cars, Lu said.
She would reinstate three yearly subsidies for elderly residents, which Ko canceled, she said, adding that the NT$1,500 subsidy would be given at Lunar New Year, Dragon Boat Festival and Mid-Autumn Festival.
Lu would alleviate the burden of career women by setting up a network of local, part-time housekeepers so that households would not have to employ full-time cleaners or foreign workers, she said.
She also expects to reduce the city's widening wealth gap, allow poorer children to receive a better education and beautify the city by planting more flowers, Lu said.
Free Taiwan Party Chairman Tsay Ting-kuei (蔡丁貴) on Thursday also declared his willingness to run in the mayoral election, saying he would join the race if the DPP continues its electoral alliance with Ko.
Comments will be moderated. Keep comments relevant to the article. Remarks containing abusive and obscene language, personal attacks of any kind or promotion will be removed and the user banned. Final decision will be at the discretion of the Taipei Times.