New UK program offers R&D links
A Taiwan-UK innovative industries program was launched in Taipei yesterday to improve research and development (R&D) cooperation between the two nations.
The British government is to spend £200,000 (US$281,348) in the program's first year to bolster collaboration in key areas including biotechnology, artificial intelligence, robotics, clean energy and autonomous vehicles.
The majority of the funds is to be spent on supporting Taiwanese researchers from universities, research and technology organizations and Academia Sinica to conduct research in the UK from two weeks to 12 months, with half of the travel costs to be covered by the British government.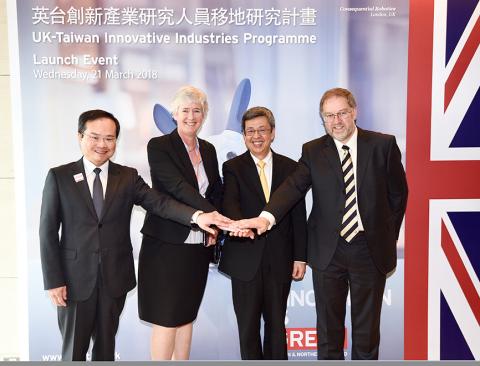 From left, Industrial Technology Research Institute vice president Liu Chun-ting, British Office Taipei Representative Catherine Nettleton, Vice President Chen Chien-jen and UK Foreign and Commonwealth Office Chief Scientific Adviser Robin Grimes yesterday shake hands during a news conference in Taipei.
Photo: Peter Lo, Taipei Times
It is the first time that the British government is going to provide funding for Taiwanese researchers to conduct research in the UK.
Britain's long tradition of excellence in science research makes it a great partner for innovation, British Foreign and Commonwealth Office Chief Scientific Adviser Robin Grimes said in his opening remarks at yesterday's ceremony.
"We have a number of the world's best universities. We have also been spending money on new research institutions," Grimes said, adding that Britain is also home to the world's second-highest number of Nobel laureates at 129.
Thanking Grimes for his support for collaboration between the two nations, Vice President Chen Chien-jen (陳建仁) said he is pleased to see how much progress the two nations have made.
Chen said the two nations are on the same page in terms of industrial strategy, as London is clear that science, research and innovation would drive the industries of the future, while Taipei has launched the "five plus two" industrial innovation program and the Forward-looking Infrastructure Development Program.
"Today's launch is just one example of that progress and our potential for the future," Chen said.
The deadline for applying to the program is April 30, British Office Taipei Senior Science and Innovation Officer Jasper Meyns said.
Whether a second round of applications would be accepted depends on the number of applicants in the first round, he said.
Comments will be moderated. Keep comments relevant to the article. Remarks containing abusive and obscene language, personal attacks of any kind or promotion will be removed and the user banned. Final decision will be at the discretion of the Taipei Times.