Minister says military still wants F-35 planes
Taiwan is still interested in buying F-35 fighters from the US because the model matches the air force's requirements, Minster of National Defense Yen Teh-fa (嚴德發) told a legislative committee yesterday.
The F-35B's short takeoff and vertical-landing capabilities definitely meet the needs of the air force, Yen told lawmakers in his first question-and-answer session as minister during a meeting of the Foreign Affairs and National Defense Committee.
However, the Ministry of National Defense has not made an official request to the US to purchase the aircraft and he could not say how many it wants to buy, he said.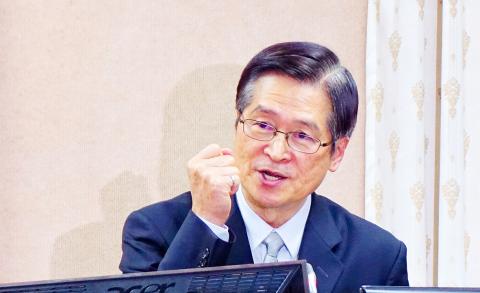 Minster of National Defense Yen Teh-fa yesterday gestures during a question-and-answer session at a meeting of the Foreign Affairs and National Defense committee at the Legislative Yuan in Taipei.
Photo: Liu Hsin-de, Taipei Times
Yen, a former secretary-general of the National Security Council (NSC), reiterated a plan the ministry first announced in late 2011.
Ministry of Foreign Affairs Department of North American Affairs Director-General Remus Chen (陳立國) told a news briefing that the government has made clear its intention to seek weaponry from the US to meet its air defense needs.
"Hopefully, those needs can be fulfilled soon," he said.
Asked to comment on Chen's remarks, American Institute in Taiwan (AIT) spokeswoman Sonia Urbom said in an e-mail that the US remains fully committed to fulfilling its responsibilities under the Taiwan Relations Act (TRA), but cannot comment on pending or potential arms sales.
"In accordance with the TRA, we will continue to make available to Taiwan defense articles and services necessary to enable Taiwan to maintain a sufficient self-defense capability," she said. "We continue to review Taiwan's defensive needs on an ongoing basis and will consult with Congress as required."
President Tsai Ing-wen (蔡英文) was quoted as saying in May last year that her administration had not dismissed the possibility of obtaining F-35 fighters.
"We don't rule out any items that would be meaningful to our defense and our defense strategy, and the F-35 is one such item," Tsai told Reuters in an interview.
Comments will be moderated. Keep comments relevant to the article. Remarks containing abusive and obscene language, personal attacks of any kind or promotion will be removed and the user banned. Final decision will be at the discretion of the Taipei Times.