Pygmy whales die despite Kaohsiung rescue efforts
VALIANT ATTEMPT: Hours of medical treatment failed to save three weakened pygmy whales, whose stomachs were found to be full of plastic bags and other garbage
Three pygmy killer whales rescued from the Port of Kaohsiung (高雄港) died on Friday night despite hours of treatment by experts, who found 18 entangled plastic bags in the stomach of one of the whales.
The three whales were part of more than 20 cetaceans disoriented in the port and reported to Kaohsiung City Government's Agriculture Bureau on Feb. 4.
The agriculture bureau found the carcasses of a Risso's dolphin and eight pygmy killer whales in the days following the alert.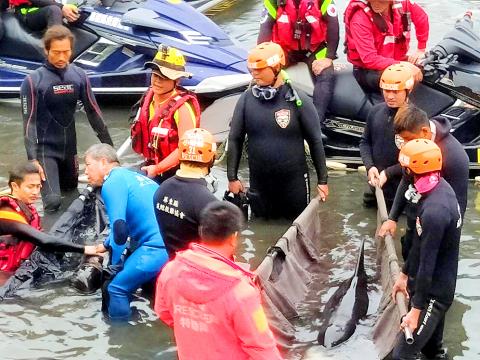 Rescue workers bring disoriented pygmy killer whales to shore at the Port of Kaohsiung on Friday.
Photo: Tsai Ching-hua, Taipei Times
After efforts to rescue three surviving whales failed on Tuesday last week, the bureau, under the advice of Wang Chien-ping (王建平), director of the Marine Biology and Cetacean Research Center at National Cheng Kung University, decided to bring them to shore to save them from dying in the cold weather, it said.
More than 60 people joined the effort to catch them on Friday, including workers from Taiwan International Ports Corp; shipbuilder CSBC Corp, Taiwan; China Steel Corp; the Forestry Bureau; the city government's Marine Bureau; and rescue associations in Chiayi and Pingtung counties, the agriculture bureau said.
After more than three hours, they managed to bring the three whales to shore and sent them to the university's research center for medical care.
Despite hours of treatment, the whales lost their lives on Friday night, Wang said yesterday, adding that their cardiopulmonary functions were weak before they died.
Unidentifiable garbage and plastic bags were found in the whales' stomachs when the center dissected the bodies.
A bundle of "black stuff" was dragged from the stomach of the thinnest whale — the mass turned out to be 18 entangled plastic bags.
"The whale's stomach was stuffed with bags. It could not take in any more, although it must have been very hungry," Wang said, while calling on the public to reduce plastic bag use and stop dumping garbage in nature.
Many netizens found the news heart-wrenching, with some saying: "Humans should apologize to you!"
Why the creatures became disoriented is uncertain, the agriculture bureau said, adding that if people find any whales or dolphins disoriented or grounded along the shore, they should immediately report it to the city government using the 1999 hotline.
Comments will be moderated. Keep comments relevant to the article. Remarks containing abusive and obscene language, personal attacks of any kind or promotion will be removed and the user banned. Final decision will be at the discretion of the Taipei Times.