Plaque criticized as praising aggression against Aborigines
A plaque at a tourist spot near an Atayal community in Hsinchu County is to be replaced after complaints from visitors that its inscription could offend Aboriginal visitors.
"Warship Cliff" in the county's Jianshi Township (尖石), named for its ship-like appearance, is a popular destination, the township office said.
The cliff is approximately 300m from the Atayal community in Siouluan Village (秀巒), the office said, adding that visitors often view the large natural stone formation from a suspension bridge that crosses the gorge next to it.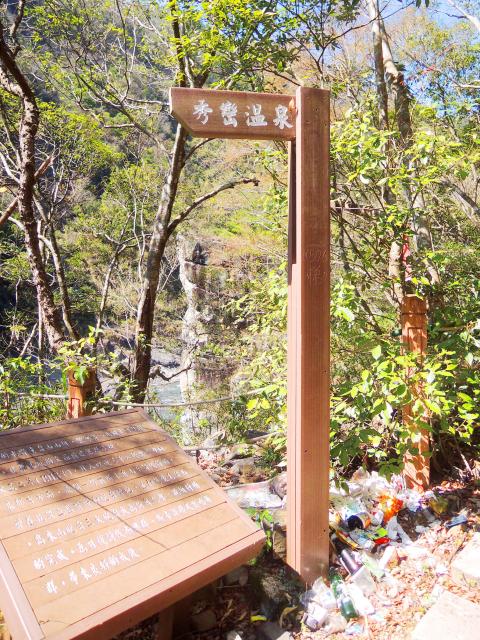 A sign indicating the way to the Siouluan hot springs on Friday stands next to a plaque that describes the "successful suppression" of Aborigines near Warship Cliff in Hsinchu County.
Photo: Liao Hsueh-ju, Taipei Times
However, visitors have expressed their concern over an inscription at a pavilion next to the bridge, which is dated "the second year of Emperor Taisho (1913)," using the Japanese calendar.
The inscription describes the effectiveness of three cannons that were installed by the Japanese to suppress Atayal and other Aboriginal communities in the nearby mountains.
During the colonial period, a force of 3,000 Japanese soldiers stationed throughout the area employed the cannons against Aborigines in Hsinchu and New Taipei City's Wulai District (烏來), visitors said.
"The inscription is written from such a historical perspective that keeping it there is akin to helping the [colonizers] show off their success in suppressing Aborigines," one visitor was quoted as saying.
As the inscription does not say who installed it, it is in the government's best interest to have it removed or replaced to avoid misunderstanding, a visitor was quoted as saying.
Visitors also expressed regret over the closure of the paths to the cannons' remains due to landslides, the office said.
"How can someone say that 'suppression of the Aborigines was effective?'" township Mayor Yun Tien-pao (雲天寶) asked, adding that whoever installed the inscription probably took it from a historical document without enough consideration.
Yun said he would look into the matter and make improvements.
While the suspension bridge, built in 2014, is under the jurisdiction of the Hsinchu Forest District Office, the pavilion and paths to the cannons are the responsibility of the county government, which rented the land from the Forestry Bureau, the bureau said.
Hsinchu Department of Transportation and Tourism Director of Engineering Yeh Sung-hung (葉宋宏) said he would ask the township office to submit a report requesting rushed repairs due to natural disaster and would have the paths opened as soon as possible.
Yeh would work with the office to have the inscription fixed or replaced, he said.
Comments will be moderated. Keep comments relevant to the article. Remarks containing abusive and obscene language, personal attacks of any kind or promotion will be removed and the user banned. Final decision will be at the discretion of the Taipei Times.