Veteran injured in legislative protest last week dies
Miao Te-sheng (繆德生), a retired colonel who passed away on Monday after being injured in a fall during a protest at the Legislative Yuan last week, was fighting for the Republic of China (ROC), not just pensions, veterans' group 800 Heroes and pro-unification group Blue Sky Action Alliance said yesterday.
Members of the 800 Heroes and other groups opposed to pension reforms broke into the Legislative Yuan compound in Taipei about 6am on Feb. 27 to back their demand that the government halt its planned pension reforms for pensions for military personnel, public-school teachers and civil servants.
The 62-year-old Miao fell head-first from the third floor of a building in the compound as he was attempting to scale its exterior wall, losing consciousness.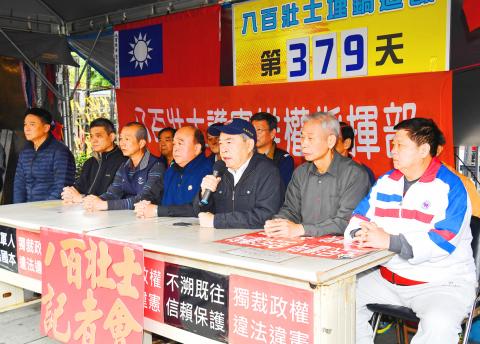 Members of the veterans' group 800 Heroes and pro-unification group Blue Sky Action Alliance hold a news conference outside the Legislative Yuan in Taipei yesterday.
Photo: CNA
Family members decided to remove him from life support on Monday.
"It would be an great insult to colonel Miao to say it was all about pensions for him," said 800 Heroes chief executive Luo Jui-ta (羅睿達), who represented the Miao family at a news conference in Taipei yesterday.
"Since the time of former president Ma Ying-jeou (馬英九), Miao never stopped fighting for the ROC or safeguarding its legitimate government," he said.
Miao was secretary-general of the Blue Sky Action Alliance, a hardline pan-blue group that says its mission is to overthrow the "false government" of the Democratic Progressive Party through a "revolution."
The 800 Heroes are not just fighting for better pensions, said spokesman Wu Sz-huai (吳斯懷), a retired lieutenant general. "We are fighting to protect the ROC by opposing Taiwanese independence, desinicization and the vilifying of military personnel."
He urged people to stop attacking Miao and said the group would press charges against any attempts to slander him.
Ministry of National Defense official Liu Ching-chung (劉靖中) expressed condolences to Miao's family and said the ministry has already held several meetings on pension reforms with military personnel, most of whom support the reforms.
The ministry would continue to communicate with different groups and individuals about the reform plans, Liu said.
Additional reporting by Tu Chu-min
Comments will be moderated. Keep comments relevant to the article. Remarks containing abusive and obscene language, personal attacks of any kind or promotion will be removed and the user banned. Final decision will be at the discretion of the Taipei Times.