Taiwan willing to discuss beef issue: Kao
Taiwan is very willing to address farm product issues with other countries, but food safety remains the top priority when discussing these matters, Representative to the US Stanley Kao (高碩泰) said on Sunday.
"These individual issues should not be viewed as a premise for Taiwan and the United States to conduct negotiations on farm products," Kao said at a news conference in Washington, adding that the Taiwanese government is transparent when handling such matters.
"The government will continue to negotiate with the US on the entry of US pork and beef to Taiwan in line with international practices, and devise management regulations based on scientific standards and basis," he said.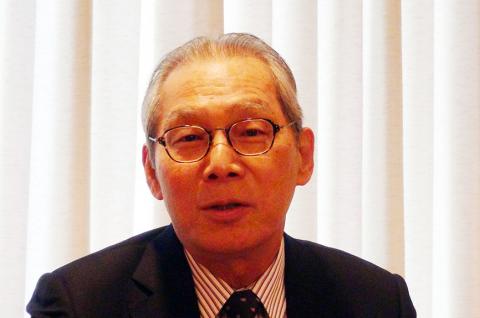 Representative to the US Stanley Kao is pictured at a news conference on Sunday in Washington where he discussed the issue of US pork and beef imports to Taiwan.
Photo: CNA
Amid grave public concern and strong opposition, the Taiwanese government has maintained a ban on US pork products containing the leanness enhancing drug ractopamine since 2006.
However, the country relaxed its ban of the drug in US beef products in 2012 due to pressure from Washington.
The issue recently returned to the public eye again after the US reiterated in its 2018 Trade Policy Agenda and 2017 Annual Report that the ban remains an obstacle to the clinching of a free-trade agreement between the two countries.
Asked about potential impact from the US' decision to impose tariffs on steel and aluminum products, Kao said that the government has been closely monitoring follow-up developments and would report to the WTO regarding certain products if necessary.
Communication channels between Taiwan and the US are smooth and Taiwan's representative office in Washington would consult the US side to gain a deeper understanding of its overall trade and economic policy to assess any possible impact on Taiwan's businesses and products, he said.
As to the passage of the Taiwan Travel Act by the US Senate, Kao called it a positive development and a friendly gesture.
He also expressed hope that a broader foundation and basis would be created for exchanges of visits by ranking officials between the two countries.
Asked whether any arrangements have been made to facilitate visits by Taiwanese ranking officials to the US, Kao said he has not received any such instruction, but added that it remains a goal for him to pursue.
Comments will be moderated. Keep comments relevant to the article. Remarks containing abusive and obscene language, personal attacks of any kind or promotion will be removed and the user banned. Final decision will be at the discretion of the Taipei Times.