Toilet paper supply stable: Cabinet
HARD-PRESSED: The Executive Yuan felt pressured to explain that a wave of tissue paper hoarding was due to concerns over rising prices and not stock shortages
The Cabinet yesterday reassured the public that there is an ample supply of toilet paper and there is no need to stockpile paper out of panic.
Amid reports yesterday that toilet paper was flying off shelves as consumers flocked to supermarkets due to reports that prices would rise dramatically next month, Cabinet spokesman Hsu Kuo-yung (徐國勇) said there is sufficient supply and people need not panic.
The Executive Yuan's Consumer Protection Committee confirmed with supermarket chains that shelves have been replenished and there is sufficient stock, Hsu said.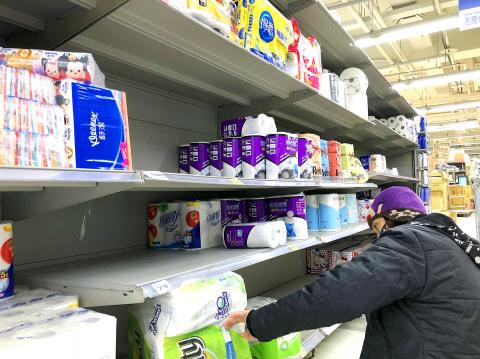 A shopper yesterday takes kitchen paper off the half-empty shelves of a supermarket in Taipei following a wave of panic-buying of toilet and kitchen paper over the past few days.
Photo: CNA
The expected rise in toilet paper prices follows an increase in international pulp prices, but a rise in the retail prices of toilet paper would not affect the prices of other commodities, because toilet paper is an end product, Hsu said.
Some retail chains are still putting toilet rolls on sale at reduced prices and consumers' bulk buying of toilet paper is caused by panic over the price rise, Hsu said, adding that the committee and the Fair Trade Commission would closely monitor short-term fluctuations in toilet paper prices to prevent price collusion.
Meanwhile, as the legislature starts its new session today, Premier William Lai (賴清德) is to address the Legislative Yuan to report on product prices, the proposed reactivation of a nuclear reactor and the government response following the deadly earthquake on Feb. 6.
Legislative caucuses only yesterday agreed on the starting date of the session during a cross-caucus meeting at which they requested that Lai report on those issues.
"The rise in toilet paper prices is not a simple matter," People First Party caucus whip Lee Hung-chun (李鴻鈞) said. "During the oil crisis, the government did not intervene in the rise of retail prices until it was too late. It is a serious a matter."
Lai should make a detailed report on government earthquake response, power supply and the rise in retail prices, Chinese Nationalist Party (KMT) caucus convener Lee Yen-hsiu (李彥秀) said.
Democratic Progressive Party caucus whip Ker Chien-ming (柯建銘) asked Lai to deliver written reports on the three issues raised by the KMT, in addition to a planned report on the Executive Yuan's policy agenda.
Comments will be moderated. Keep comments relevant to the article. Remarks containing abusive and obscene language, personal attacks of any kind or promotion will be removed and the user banned. Final decision will be at the discretion of the Taipei Times.