FEATURE: Taipei Zoo shifting focus to conservation
Taipei Zoo hopes to work with schools and government agencies to increase public awareness of wildlife protection, spokesman Eric Tsao (曹先紹) said.
One of the nation's most popular attractions, the zoo, established in 1914, draws about 3 million visitors every year, Tsao said.
Tsao recalled a statement made by former Wildlife Conservation Society president William Conway, who told the annual meeting of the World Association of Zoos and Aquariums in New York in 2005 that it is crucial for zoos around the world to transition from being "living museums" to being conservationist institutions.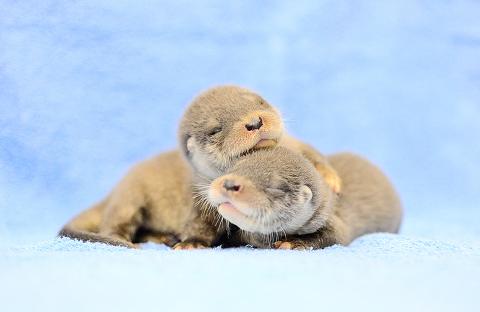 An April 2014 photo provided by Taipei Zoo shows a pair of Eurasian otter siblings holding each other after birth with their eyes still closed.
Photo provided by Taipei Zoo
Tsao said he has long been hoping to promote such an idea, "because conservation is a value that zoos can provide."
Tsao said he was initially unsure how zoos could promote conservation, although 15 percent of critically endangered animals worldwide could be found in zoos.
The value of zoos became apparent in Taiwan when the sika deer was facing extinction in the nation, he said.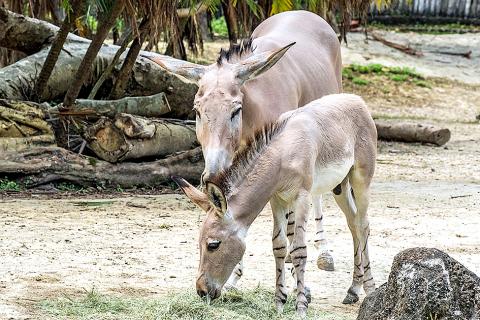 Two African wild donkeys are pictured in an undated photograph at Taipei Zoo.
Photo provided by the Taipei Zoo
Former zoo director Chen Pao-chung (陳寶忠) sent the zoo's deer to Tunghai University and breeders in Kenting's Sheding Nature Park (社頂自然公園) to boost the population.
Tsao said many animals that are either injured or facing danger are brought to the zoo.
Animals like the Eurasian otter and the leopard cat, both endangered species, can benefit from the zoo's extensive experience, he said.
"We must not let these animals become extinct because of human activity," he said.
Tsao said conditions for wild animals are improving as the public becomes better informed, citing the Malayan night heron, which has been building its nests in the zoo for many years now, and the crested goshawk, which can be seen in Taipei's Daan District (大安) every year.
This shows the birds are not afraid of people, which is a step forward, he said.
The zoo's conservation efforts span cities, counties and even international borders, but seeing its plans through will take several years, he said.
One of the challenges facing conservationists is the need to find new bloodlines to prevent inbreeding when trying to save endangered animals, he said.
There is also a lack of experts in endangered animals, he said.
"Add this to the fact that these animals may have special characteristics that make it harder to transport them, especially across international borders," he said.
African onagers brought to the country from France and the Czech Republic in 2015, as well as an orangutan from Poland in 2016, all required lengthy application processes lasting three to four years, he said.
"So far, we have had success breeding the onagers. It is a new page in history," he said.
In 2000, former zoo director Jason Chin (金仕謙) rescued a black-faced spoonbill and sent it to Japan's Tama Zoo, where a mate was found for it and it laid two eggs.
The zoo planned to send the bird back two years ago, but shelved the plan due to an avian flu outbreak at the time, he said.
Problems can also arise in transporting animals domestically, he said, citing a giraffe that died in transit in 2016 while on its way to Leofoo Village Theme Park in Hsinchu for breeding.
"Giraffes are really sensitive. They get nervous easily, and their height, age and demeanor must be considered when transporting them," he said.
The failure with the first giraffe was a learning experience, he said, adding that a second attempt at transporting a giraffe from the zoo to the theme park last year was successful.
The zoo's two pandas, Tuan Tuan (團團) and Yuan Yuan (圓圓), as well as pangolins, leopard cats and Eurasian otters rescued by the zoo are rising stars, he said.
Animals that are hairy, long-lived or "storybook-like" in nature tend to be the most popular with the public, he said.
"When we rescued the Eurasian otter siblings, Ta Chin (大金) and Hsiao Chin (小金), from Kinmen, images of them holding each other after birth with their eyes still closed were incredibly adorable. They became an instant hit," he said.
Early stars at the zoo were the famous elephant Lin Wang (林旺), who was originally employed by Japanese troops invading Burma during World War II, the koala Patrick and the king penguin Hei Ma Shu (黑麻糬).
Conservationists at the zoo will continue to educate the public through the media and the Internet, sharing their experiences of caring for the animals and drawing the public's attention to important conservation-related issues, he said.
Comments will be moderated. Keep comments relevant to the article. Remarks containing abusive and obscene language, personal attacks of any kind or promotion will be removed and the user banned. Final decision will be at the discretion of the Taipei Times.