Happiness Alliance seeks referendum
The Alliance for the Happiness of Future Generations (Happiness Alliance, 幸福盟) yesterday submitted a proposal for a referendum against same-sex marriage to the Central Election Commission for review.
The proposal, which has collected 3,549 signatures, asks the question: "Do you agree that the government should keep the current definition of marriage as between a man and a woman and pass a separate law to protect the right of a same-sex couple to live together?"
Members of the alliance, which was formed by the Alliance of Taiwan Religious Groups for the Protection of the Family (Family Alliance, 護家盟) and a handful of Christian groups, urged the government to let citizens jointly decide whether to legalize same-sex marriage, saying that most Taiwanese do not support changing the definition of marriage in the Civil Code.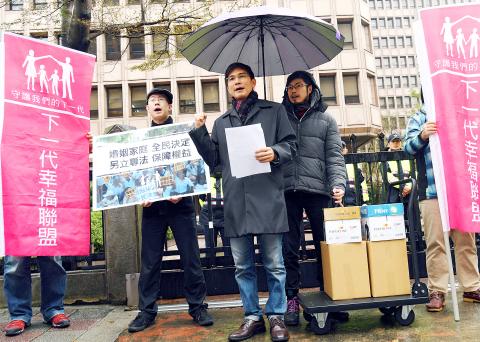 Representatives from the Alliance for the Happiness of Future Generations hold a news conference yesterday in front of the Joint Central Government Office Building in Taipei to propose a referendum on the definition of what constitutes a marriage.
Photo: CNA
Citing a poll, Happiness Alliance president Tseng Hsien-ying (曾獻瑩) said that 76 percent of Taiwanese support holding a referendum on whether to legalize same-sex marriage, while only 1.1 percent believe the Legislative Yuan should decide.
The referendum's purpose is to protect the current marriage system, he said.
As heterosexual and homosexual relationships are different, having a separate law for homosexual couples would help protect the family values of heterosexual couples, he added.
Under the Referendum Act (公民投票法), the proposal must collect 1,879 signatures to be approved for review. Once passing the review, it would need 281,745 signatures to qualify as a formal referendum.
Comments will be moderated. Keep comments relevant to the article. Remarks containing abusive and obscene language, personal attacks of any kind or promotion will be removed and the user banned. Final decision will be at the discretion of the Taipei Times.