Hualien Earthquake: Building 'health checks' mulled
RE-ENFORCED: Implementing a third-party supervision system to ensure integrity at the design and construction stages of a building project is to be a priority bill
Following Tuesday night's deadly earthquake in Hualien, the Cabinet yesterday said it is mulling a compulsory "health check-up" of older buildings and the establishment of a third-party construction supervision system to improve building safety.
The Ministry of the Interior gave a report of its post-earthquake emergency response and disaster relief measures to the Cabinet and said it is contemplating revising laws to enforce a compulsory assessment of buildings that are thought to be structurally weak, Deputy Minister of the Interior Chiu Chang-yueh (邱昌嶽) told a news conference at the Executive Yuan.
Buildings that collapsed during Tuesday's earthquake were commercial and residential complexes, where supportive structures in the lower parts of buildings are often partially removed to make room for commercial space, meaning the structures are less earthquake resistant, Chiu said.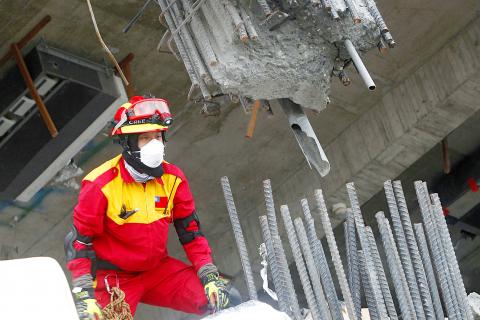 A rescue worker looks at a broken pillar at a collapsed building in Hualien yesterday after Tuesday's magnitude 6.0 earthquake.
Photo: Chiang Ying-ying, AP
Following a major earthquake in southern Taiwan on Feb. 6, 2016 that killed 117 people, including 114 when the Weiguan Jinlong complex in Tainan collapsed, the ministry launched a program to provide free assessment of buildings built before 1999, when improved construction regulations were enforced.
However, few complexes have applied for the service because residents fear that the value of their apartments would plummet if they are determined to be structurally weak, Chiu said.
The reinforcement or reconstruction of such complexes are often forestalled as the Statute for Expediting Reconstruction of Urban Unsafe and Old Buildings (都市危險及老舊建築物加速重建條例) requires the approval of all property owners to begin work, Chiu said.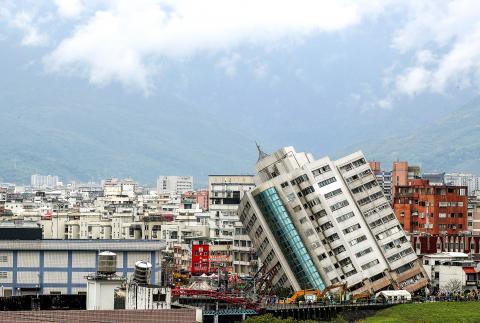 A a damaged building is seen in Hualien yesterday after a magnitude 6.0 earthquake hit on Tuesday night.
Photo: EPA-EFE
The ministry is mulling amendments to the statute and the Urban Renewal Act (都市更新條例) to enforce compulsory assessment for aging buildings and lower the approval threshold for reinforcement and reconstruction, Chiu said.
"We are faced with inadequate laws and lack of public awareness, and we need to make breakthroughs in those two areas. Taiwan is on a seismic belt and safety is an absolute priority," Cabinet spokesman Hsu Kuo-yung (徐國勇) said, calling on the public to prioritize building safety over real-estate profits.
The ministry has also finalized a draft amendment to the Building Act (建築法) to introduce a construction supervision system enforced by a third-party to ensure construction quality, Chiu said.
The third-party supervision system has been discussed since the collapse of the Weiguan Jinlong complex, construction of which was determined by prosecutors to be flawed.
The supervision system is aimed at ensuring the structural integrity of a building during the design and construction stages.
The draft is to be submitted as a priority bill in the new legislative session, Chiu added.
Meanwhile, Premier William Lai (賴清德) instructed the Cabinet to form a relief and reconstruction task force headed by Minister Without Portfolio Chen Mei-ling (陳美伶), which convened its first meeting yesterday afternoon in Hualien.
Lai also ordered the speedy distribution of the NT$300 million (US$10.21 million) relief fund to Hualien quake victims, while offering extra subsidies for people who need to relocate.
The ministry has assembled 50 specialists in Hualien to provide building assessments, and residents can call 1999 to book the service, Minister of the Interior Yeh Jiunn-rong (葉俊榮) said.
Comments will be moderated. Keep comments relevant to the article. Remarks containing abusive and obscene language, personal attacks of any kind or promotion will be removed and the user banned. Final decision will be at the discretion of the Taipei Times.