WorldVeg sending seed gift to 'Doomsday vault'
The World Vegetable Center (WorldVeg) is sending a gift of samples of 21 vegetable species to the Svalbard International Seed Vault in Norway as part of celebrations of the vault's 10th anniversary.
Staff on Wednesday packed 1,004 samples, or "accessions," of okra, eggplant, soybean, pumpkin, loofah, leaf mustard and four more species at their headquarters in Tainan's Shanhua District (善化).
"Delivery takes 10 days and we need to make sure the seed boxes will arrive in time for the celebration," research assistant Sophie Chou (周宥妤) said on the center's official Web site.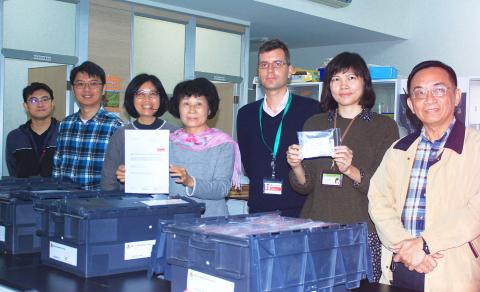 World Vegetable Center staff on Wednesday pose at the center in Tainan with a letter and boxed seed samples that are being sent to the Svalbard International Seed Vault in Norway.
Photo: CNA
The vault will celebrate its 10th anniversary on Feb. 26 and Feb. 27.
Established to protect the world's agricultural diversity and heritage, the facility is known as the "Doomsday Vault" because it was built to withstand natural or man-made disasters.
The center's genebank team began to prepare the samples more than a year-and-a-half ago, Chou wrote.
The accessions were planted between September and October 2016 for seed multiplication, and then harvested from late 2016 to the middle of last year, Chou said.
The seeds were dried for several months to prepare them for storage in extremely cold rooms.
The center is the world's largest public collection of vegetable seeds, which are made available to research institutions, farmers and seed companies worldwide.
Its vast collection represents 439 species that provide the genetic diversity needed to improve vegetable crops, a vital source of nutrients for the human diet.
The center said it has been an active participant in the vault from the beginning, and now has about 24 percent of its collection duplicated and stored in the vault.
"We take our stewardship of this precious resource very seriously," WorldVeg genebank manager Maarten von Zonneveld said. "By placing duplicates of the seed in the WorldVeg collection in other genebanks and in the long-term storage at Svalbard, we can help ensure its safety, now and in the future."
Comments will be moderated. Keep comments relevant to the article. Remarks containing abusive and obscene language, personal attacks of any kind or promotion will be removed and the user banned. Final decision will be at the discretion of the Taipei Times.