League to elect completely new leadership: Lei
NOT A TRAITOR: Women's League Chairwoman Joanna Lei said she never promised to dissolve it and rejected accusations that she had 'conspired' with authorities
National Women's League chairwoman Joanna Lei (雷倩) yesterday announced that there is to be an all-around reelection of the league's Standing Committee and that she would sue committee members Pan Wei-kang (潘維剛) and Tan Hai-chu (談海珠) and attorney Yeh Ching-yuan (葉慶元) for defamation.
The Ill-gotten Party Assets Settlement Committee yesterday officially found the league to be an affiliate of the Chinese Nationalist Party (KMT) and ordered a freeze on the league's NT$38.5 billion (US$1.31 billion) in assets.
The reelection was requested by the assets committee, Lei said at a news conference called shortly after the assets committee's announcement, adding that she would not be running.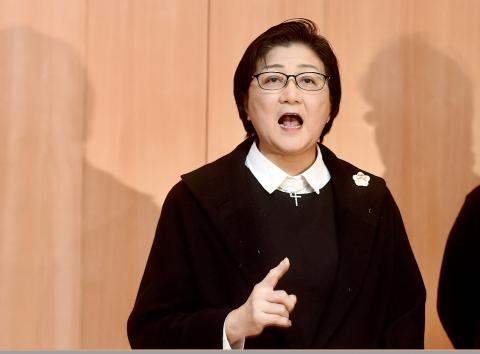 National Women's League chairwoman Joanna Lei speaks at a news conference in Taipei yesterday.
Photo: Chien Jung-fong, Taipei Times
"As this is a democratic request, we will definitely comply with it," Lei said.
The election would be an opportunity for the league to transition into a truly democratic organization, she added.
From now on, the league's Standing Committee would be in a defensive state and although the league's assets have been frozen, committee operations are to proceed as normal, Lei said.
In response to the assets committee, an attorney appointed by former league chairwoman Cecilia Koo (辜嚴倬雲) had yesterday morning already prepared a first legal complaint, Lei said.
After she was elected chairwoman on Dec. 24 last year, all she could think of was to protect the league, Lei said, adding that on Dec. 25, she pleaded with Minister of the Interior Yeh Jiunn-rong (葉俊榮) to reach a decision yet on whether the league was affiliated with the KMT.
On Dec. 29, the ministry, the assets committee and Lei signed a memorandum of understanding that gave the league until Wednesday to sign an administrative contract, which would have seen the league voluntarily dissolve itself within four months and donate 90 percent of its total assets to state coffers.
She had promised that there would be a Standing Committee meeting, but had not promised that the league would sign the contract, Lei said.
Lei said she could not accept false accusations that she was conspiring with the government, adding that she chose to endure these insults to protect the league.
Comments will be moderated. Keep comments relevant to the article. Remarks containing abusive and obscene language, personal attacks of any kind or promotion will be removed and the user banned. Final decision will be at the discretion of the Taipei Times.