Airlines cancel flight requests
LEVERAGE? XiamenAir said the government was using businesspeople as bargaining chips, a charge Minister of Transportation and Communications Hochen Tan denied
XiamenAir and China Eastern Airlines have canceled their requests for additional flights for the Lunar New Year holiday, the Ministry of Transportation and Communications said yesterday, reiterating its position regarding four aviation routes that Chinese authorities unilaterally launched amid calls from Taiwan for negotiation on the issue.
The Civil Aeronautics Administration (CAA) had denied requests from the two Chinese airlines for additional flights to Taiwan that would have used the northbound M503 flight route, as well as the W121, W122 and W123 extension routes.
There would be aviation safety risks for carriers operating on any of those routes, the agency said at the time.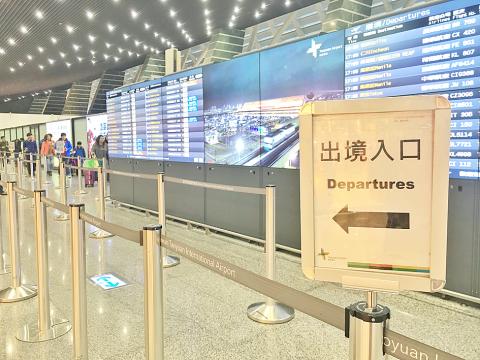 Departure times are displayed on a flight information display board at Taiwan Taoyuan International Airport yesterday.
Photo: CNA
XiamenAir yesterday said that it was forced to cancel its request for 70 additional flights, as it cannot keep waiting for a reply from the agency.
The company criticized the government, saying it was "using people's interests as bargaining chips and subsequently refused [XiamenAir's] plan to increase flights," adding that the move "has left thousands of Taiwanese businesspeople in China unable to return home for the Lunar New Year holiday in a peaceful manner."
China Eastern announced that it would cancel a planned 106 additional flights for the holiday, saying that the decision was made to minimize losses for travelers.
It also accused Taiwan of handling the situation in a willful and arbitrary manner.
Deputy Minister of Transportation and Communications Frank Fan (范植谷) called the two carriers' decisions unfortunate, saying that the government would use all possible means to bring Taiwanese businesspeople home for the holiday.
"Aviation safety issues are uncompromisable. To a certain extent, we think that their decisions to cancel additional flights actually enhance flight safety. They should not continue operating flight routes that both sides have yet to negotiate," Fan said.
Minister of Transportation and Communications Hochen Tan (賀陳旦) said the ministry did not say that it would not approve the airlines' requests, adding that it had hoped the matter would be resolved through bilateral discussions on relevant issues.
"We have never used Taiwanese businesspeople in China as bargaining chips," Hochen said, adding that the ministry has sought to increase communication with China.
"The door should always be open for both sides to make flexible arrangements," he said
The government would also appeal to the international community for support on the matter, he added.
CAA Director-General Lin Kuo-hsien (林國顯) said that while China has claimed there are no safety issues in using the northbound M503 and the three extension routes, that is not necessarily the case.
"Based on the principles laid out by the International Civil Aviation Organization [ICAO], two adjacent flight information regions should negotiate if one says an aviation route is safe and the other says it has doubts," Lin said. "Taiwan and China reached an agreement in 2015 on the activities of these flight routes. We hope that they [Beijing] will continue to honor the agreement and the ICAO principles."
The 2015 agreement stipulated that only southbound flights would be permitted on route M503 and that the extension routes would not be activated without negotiations, he said.
It also stipulated that flights deviating from designated routes due to inclement weather or other reasons should always turn right, per customary practice in the international community, Lin added.
At its nearest point, route M503 is 7.8km from the median line of the Taiwan Strait, adjacent to several military facilities, the CAA said, adding that if northbound flights on M503 deviate from the route, they could enter the sensitive military zone.
Route W123 is 1.1 nautical miles (2.04km) from Kinmen Airport's aircraft approach control area, while W122 is only 2.8 nautical miles from an aircraft approach control area in Matsu, the agency said, adding that a lack of communication between air traffic controllers could result in accidents.
Comments will be moderated. Keep comments relevant to the article. Remarks containing abusive and obscene language, personal attacks of any kind or promotion will be removed and the user banned. Final decision will be at the discretion of the Taipei Times.