Treasured painting displayed for first time in 34 years
Ti Tsui (滴翠), a watercolor painting by the late artist Lan Yin-ting (藍蔭鼎), was yesterday put on public display for the first time in 34 years as part of an exhibition at the Yilan Museum of Art curated by the county's Cultural Affairs Bureau.
Lan, who was born in 1903 in Yilan County's Luodong Township (羅東), painted Ti Tsui in his 50s, at the peak of his painting career.
Ti Tsui is considered the bureau's most treasured possession, because it portrays the unique scenery and qualities of Yilan's rural villages and showcases Lan's distinctive style and features, administrative division director Wu Hsi-min (巫習民) said.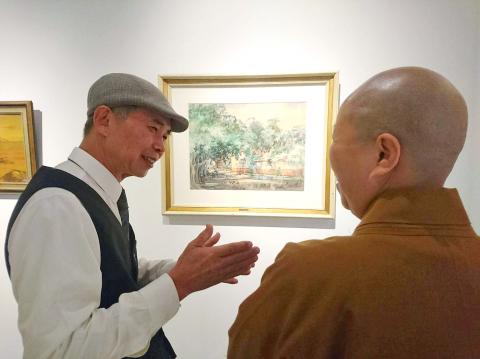 Visitors to the Yilan Museum of Art yesterday discuss a painting by Taiwanese watercolor artist Lan Yin-ting, which is being exhibited for the first time in 34 years.
Photo: Lin Ching-lun, Taipei Times
Ti Tsui has been in the bureau's collection since 1984, before which it was kept at the county council speaker's office.
After Yilan-born artist Chen Chung-tsang (陳忠藏) saw the painting at the county council, he suggested that then-council speaker Chen Ching-fu (陳進富) donate it to the bureau to protect it from theft or damage.
Although watercolor paintings are difficult to preserve and sell for less than oil paintings, many of Lan's works have sold at auctions for several hundreds of thousands of New Taiwan dollars, with some selling for more than NT$1 million (US$34,363).
One of Lan's most representative works, Ti Tsui is estimated to be worth more than NT$10 million.
Lan was a student of Japanese watercolor painter Kinichiro Ishikawa and, on Ishikawa's recommendation, studied in Japan as an auditing student.
A former president and editor-in-chief of Taiwan Pictorial (台灣畫報), Lan was in 1962 listed by the International Geneva Yearbook as one of the world's 25 greatest artists. In 1971, the European Art Critical Commentary Society included Lan in its first annual list of the world's 10 greatest watercolor painters.
Building an art collection requires a long-term strategy, bureau director Lee Chih-yung (李志勇) said.
The exhibition, titled Poetic Gaze: Exhibition of Yilan Museum of Art Collection, is to run until March 18.
Comments will be moderated. Keep comments relevant to the article. Remarks containing abusive and obscene language, personal attacks of any kind or promotion will be removed and the user banned. Final decision will be at the discretion of the Taipei Times.