US bureau removes all flags from site
ALL OR NOTHING: The change came three days after the ROC flag was removed, but it is unclear whether the change was meant to improve damaged Taiwan-US ties
The US Department of State's Bureau of Consular Affairs has removed the flags of all countries from its Web site amid rising suspicion over the solidity of Taiwan-US ties following the disappearance of the Republic of China (ROC) flag from several US government Web sites.
The change was first reported yesterday by the Chinese-language Liberty Times (sister newspaper of the Taipei Times), which said the introductory pages for all the nations listed under the site's "Country Information" page no longer contain their respective national flags, including the page for China.
The change came only three days after it was discovered that the bureau's site and that of the Office of the US Trade Representative removed the ROC flag without an explanation, prompting concern over a potential policy shift by US President Donald Trump's administration.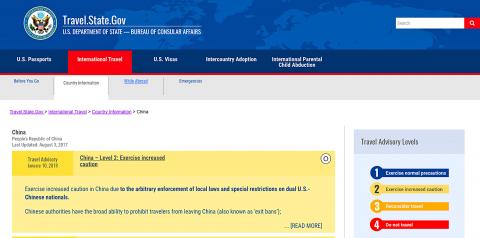 A screengrab of the Web site of the US Department of State's Bureau of Consular Affairs yesterday shows the page introducing China after all national and regional flags were removed from the site.
Screengrab from the Web site of the US Department of State's Bureau of Consular Affairs
The Ministry of Foreign Affairs on Wednesday issued an unusually strong statement directed at one of its most important strategic partners over the disappearance, saying the removal was "unthinkable, unacceptable and disappointing."
The ministry also expressed worry that the move would negatively affect how Taiwanese perceive Taiwan-US relations.
"Regarding the Bureau of Consular Affairs' update of its official Web site and removal of all national flags, our Taipei Economic and Cultural Representative Office in the US has reported the change back to the government," ministry spokesman Andrew Lee (李憲章) said in a statement yesterday.
The government has always valued its ties with the US and considers it to be its most significant ally, Lee said.
Taipei also appreciates Washington's long-term support for the nation's participation in international events, improvement of its national defense capabilities and maintenance of peace and stability in the East Asia region, Lee said.
However, it remains to be seen whether the change on the bureau's Web site will be comprehensive and whether it was designed to assuage a brewing diplomatic crisis between Taiwan and the US.
As of press time last night, the ROC flag was still the only national flag missing on the Web sites of the Office of the US Trade Representative and the US Department of State, which was the first US government agency to remove the flag, in September last year.
Comments will be moderated. Keep comments relevant to the article. Remarks containing abusive and obscene language, personal attacks of any kind or promotion will be removed and the user banned. Final decision will be at the discretion of the Taipei Times.