Sports reform advocates ask Lin to quit
Sports Administration Director-General Lin Te-fu (林德福) should resign for failing to address the chaos in the board elections of sports associations and for interfering in the elections, national sports reform advocates said yesterday.
Following the implementation of an amendment to the National Sports Act (國民體育法) on Sept. 20 last year, sports associations have until March 20 to revise organizational rules and hold board elections. The amendment also requires sports associations to accept membership applications from individuals.
Among the 47 sports associations that by last month had agreed to accept individual members, the Chinese Taipei Swimming Association (CTSA) received the largest number of individual membership applications, Sports Administration data showed.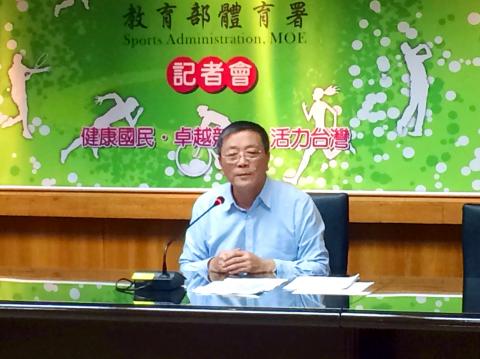 Sports Administration Director-General Lin Te-fu is pictured during a news conference in Taipei on Thursday last week.
Photo: Liao Yu-wei, Taipei Times
However, Fair Game! Taiwan! on Tuesday obtained a list of 500 members from a CTSA staffer, organization spokesman Angelo Chang (張祐銓) said, adding that more than 100 members have the same birthday and 130 listed the e-mail address of CTSA technical specialist Chen Fu-long (陳復龍).
Chen is an important aide to CTSA chairman Hsu Tun-hsiung (許東雄), who has announced that he would step down, Chang said, adding that the list is evidence that Hsu has wielded his influence over local swimming associations in the processing of individual membership applications.
The group found a similar aberration when examining a list of 20,000 applications to the CTSA, he said.
About 13,000 applicants shared 13 e-mail addresses and 1,551 listed the same home address, Chang said, adding that was a clear indication that the CTSA intends to manipulate board elections by recruiting nominal members.
New Power Party Legislator Freddy Lim (林昶佐) said that Lin called swimmer Jason Tan (唐聖捷) a few weeks ago and promised the agency's help if Lin ran in the CTSA's board member election.
That Lin could make such a promise with confidence showed that he already knew that some sports associations were recruiting nominal members, he said.
"We have to ask why the Sports Administration continues to allow such things to happen. I believe this is why people have stopped trusting the agency, because they honestly do not know if it is pushing or obstructing reform," Lim said.
Apart from asking that Lin step down, sports reform advocates urged the agency to examine the lists of new members submitted by the associations and publicize the results.
The enforcement rules for the National Sports Act, which are to be made public next week, should ban the plurality voting system in board elections, they said.
Board elections should be overseen by an independent election committee, the advocates said, adding that all elections should be suspended if the issues with nominal members are not resolved.
People on the list would be asked to pay an application fee and submit documents confirming their identity, Sports Administration Deputy Director-General Wang Shui-wen (王水文) said, adding that they would receive a full refund of the fee if their identities are abused for the board elections.
Information on the payment of the membership fee and board elections would be sent to addresses listed in household registration offices, he said.
"If people have evidence that sports associations are using nominal members to manipulate board elections, they can submit it to the Sports Administration. We can turn the case over to prosecutors and the Investigation Bureau for further investigation," Wang said.
However, the act does not limit the number of sports associations in which an individual can have membership, nor does it stipulate that an address can be owned by only one person, he said.
The Legislative Yuan yesterday afternoon resolved to freeze 30 percent of the agency's operational budget, which can now only be activated after a special briefing to lawmakers, citing its repeated failure to resolve controversies surrounding board elections of sports administrations.
Comments will be moderated. Keep comments relevant to the article. Remarks containing abusive and obscene language, personal attacks of any kind or promotion will be removed and the user banned. Final decision will be at the discretion of the Taipei Times.