Former military site transformed into a community oasis
New Taipei City's Tucheng District (土城) residents have transformed the site of Juguang No. 4 Village (莒光四村), former military community, into an "oasis" by planting gardens and installing works of art.
The settlement was vacated and demolished by the Ministry of National Defense three years ago, leaving a parking lot, concrete walls and a vacant lot, Yushen Borough (裕生) Warden Yang Chung-fu (楊忠富) said.
The community has worked to beautify the area and turn it into a space to attract visitors for Mid-Autumn barbecues and open-air theater, he said.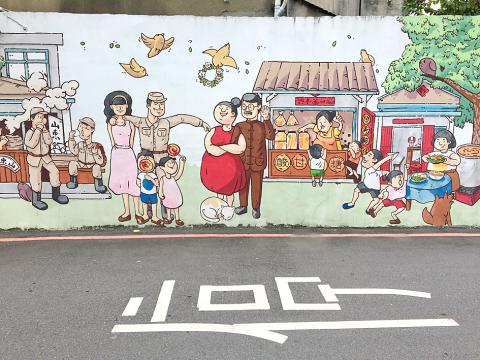 A mural depicting aspects of community life at the former Jyuguang No. 4 Village military dependents' community in New Taipei City's Tucheng District is pictured on Thursday.
Photo: Chiu Shu-yu, Taipei Times
The garden provides the community with fresh fruits and vegetables, and photographs of the area are often posted on social media, he said.
The area has been decorated with murals and pot-plant holders residents made from recycled goods for string-of-pearl plants, he said.
Plastic milk cartons, tin cans, metal netting and an abandoned street vendor's food cart have been decorated and made into pot-plant holders for herbs and flowers, Yang said.
A trellis for passion fruit vine — which yields up to 500 fruits per season — has been made from metal clothes hangers, he added.
The community shares the harvest and some of the produce is donated to a kitchen that caters to the community's elderly residents, Yang said.
Comments will be moderated. Keep comments relevant to the article. Remarks containing abusive and obscene language, personal attacks of any kind or promotion will be removed and the user banned. Final decision will be at the discretion of the Taipei Times.