Amendment to Physicians' Act debated
Dozens of doctors yesterday attended a public hearing at the legislature in Taipei to discuss a proposed amendment to Article 11 of the Physicians' Act (醫師法) to allow more flexibility for "substantial diagnosis" and have it not limited to face-to-face diagnosis.
The Ministry of Health and Welfare on Jan. 11 announced draft regulations of treatment of telemedicine. The regulations are an extension to the limitation of the conditions whereby physicians are allowed to practice medicine via telecommunication.
The article states that "a physician may not treat, issue a prescription or certify a diagnosis to patients that are not diagnosed by the physician himself or herself," but physicians appointed by the competent authority can use telecommunications to treat patients in mountainous or remote areas, on outlying islands, or in special or urgent circumstances.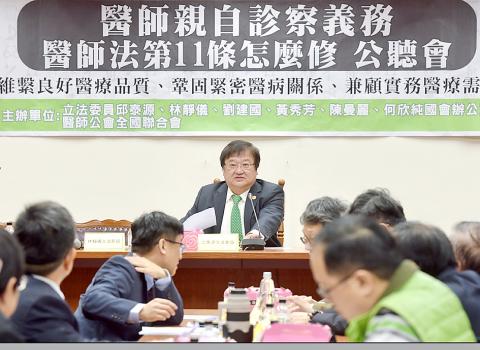 Democratic Progressive Party Legislator Chiu Tai-yuan, center, takes part in a hearing in Taipei yesterday to discuss amendments to the Physicians' Act.
Photo: Huang Yao-cheng, Taipei Times
If the draft regulations are passed, five additional categories of patients would be allowed to receive medical diagnosis via telecommunications.
However, many doctors have urged that the article allow more exceptional conditions whereby physicians can practice medicine without a face-to-face consultation and Democratic Progressive Party (DPP) Legislator Chiu Tai-yuan (邱泰源) has proposed a draft amendment.
The "special or urgent circumstances" stated in the article are unclear and should be redefined, while easing the regulations could result in more medical resources being concentrated in hospitals in cities, Chiu said.
Taiwan Medical Association regulation commissioner Wu Hsin-hsi (吳欣席) said while most doctors agree that it is necessary to fully understand patients' conditions, the meaning of "diagnosed by the physician himself or herself" should be reconsidered as "face-to-face diagnosis" or "substantial diagnosis" is more important.
Many physicians at the hearing shared their experience of long-term patients complaining about not being able to ask a family member to get their medication when they cannot make a visit in person.
Some said they wanted to help the patients avoid the difficulty or pain of traveling, but were afraid of contravening the law.
Most of the physicians said they support Chiu's proposal to amend the act to allow for more flexibility.
Comments will be moderated. Keep comments relevant to the article. Remarks containing abusive and obscene language, personal attacks of any kind or promotion will be removed and the user banned. Final decision will be at the discretion of the Taipei Times.