Fewer late MRT riders than 2017
Ridership on Taipei's Mass Rapid Transit System (MRT) on New Year's Eve and early New Year's Day was slightly lower than the previous year, although more people took the MRT to attend the midnight countdown at Taipei 101, Taipei Rapid Transit Corp said yesterday.
About 2.59 million passengers traveled on the MRT in the 24-hour period from 6am on Sunday to 6am yesterday, compared with 2.64 million during the same period the previous year, the firm said.
The slight drop in ridership was due to the three-day long weekend, which meant that most people traveling from Taipei to other parts of the nation left on Saturday and therefore did not ride during the 24-hour New Year's period, it said.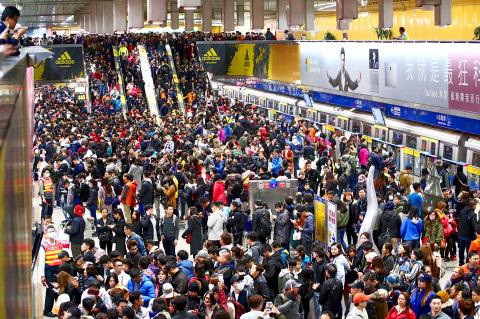 Crowds of people wait at the Taipei City Hall MRT station early yesterday morning after the New Year's Eve countdown party and fireworks display.
Photo: CNA
However, local media reported that many people decided to stay home on New Year's Eve because of poor air quality across the country.
Despite the slight fall in overall ridership, the number of passengers departing from the Taipei City Hall, Sun Yat-sen Memorial Hall, Taipei 101/World Trade Center and Xiangshan stations — the four closest to Taipei 101 — between 6am on Sunday and 2am yesterday increased to 371,000 from 340,000 a year earlier, the company said.
MRT trains, which normally operate from 6am to midnight, remained in service for 42 straight hours, but are to resume regular operations today.
To maintain order and smooth service, the company deployed about 1,400 staff, police officers and volunteers at several stations on the Xinyi and Bannan lines, which lead to Taipei 101.
The Taipei 101 countdown party, recognized as the primary New Year's Eve celebration in Taiwan, attracted a large crowd that watched the six-minute fireworks show at the 508m-tall tower.
The show, themed "2018 Happy Together," integrated fireworks with an LED display that the organizers said was both innovative and environmentally friendly.
Comments will be moderated. Keep comments relevant to the article. Remarks containing abusive and obscene language, personal attacks of any kind or promotion will be removed and the user banned. Final decision will be at the discretion of the Taipei Times.